About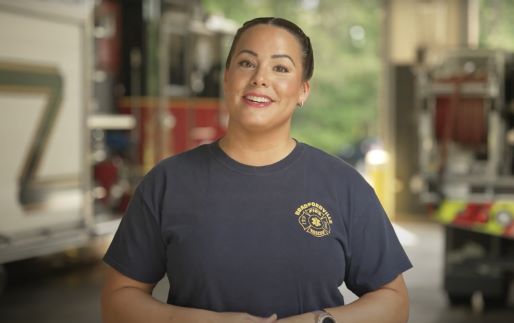 The Future of Work Florida, an initiative in partnership with the Florida Department of Education, the Florida Chamber Foundation and CareerSource Florida, galvanizes support for Career and Technical Education as the solution to our workforce needs. Bringing together job creators, industry leaders, and education and community partners, the initiative helps showcase the careers of the future and the industries with the most growth potential.
By partnering with Xello, Florida's K-12 students gain access to a comprehensive program that enables them to explore in-demand careers and the incredible advancement opportunities available to them when they enter a Career and Technical Education program.
Florida is on the path to becoming a top 10 global economy by 2030. Workforce education will propel us there – faster, farther. Learn more at FutureOfWorkFL.com
How Xello Works
One Program, Three Modules
Xello is a full K-12 College & Career Readiness program comprised of three interactive and age-appropriate modules.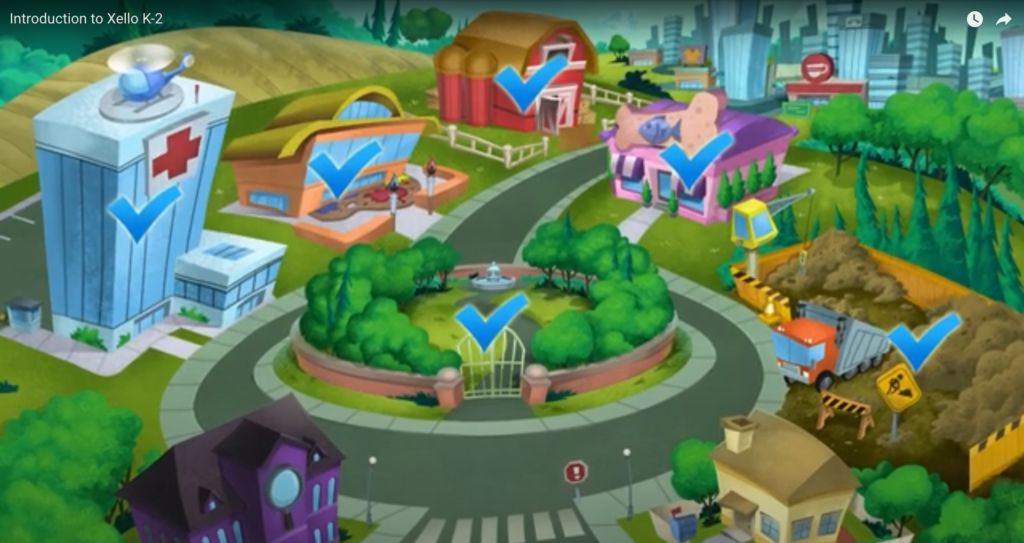 Xello K-2
Module one of Xello begins as early as Kindergarten. It takes students on an adventure through Career Town to solve the mystery of its missing workers. Being fun and engaging students are eager to learn about the meaning of careers and what goes into choosing one.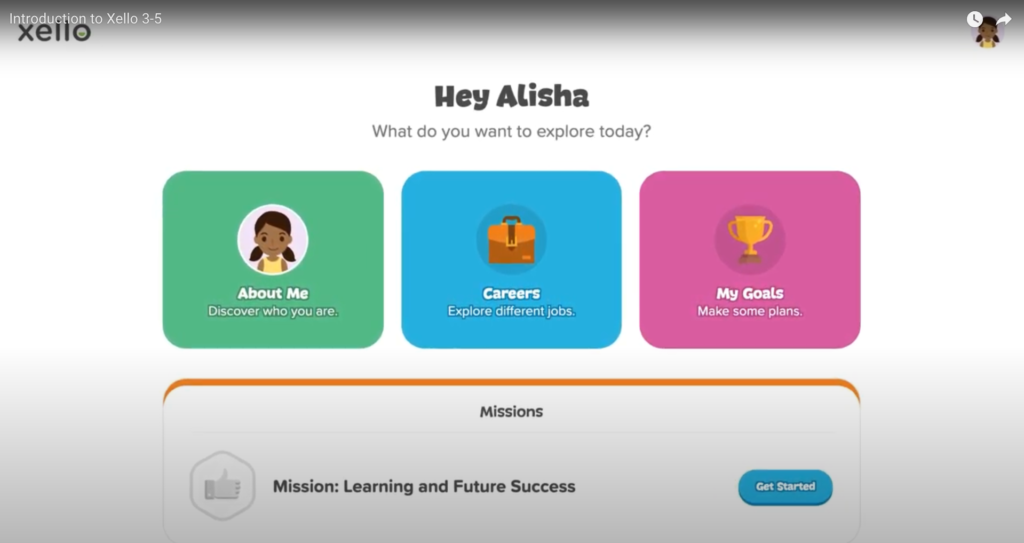 Xello 3-5
In grades 3 to 5 the Xello student experience evolves. Lessons and personalized activities are introduced. These engage students in building self-knowledge, exploring interest-related career options, setting achievable goals, and developing critical thinking skills.
Xello 6-12
In grades 6 to 12, assessments inspire deeper career exploration, academic planning is introduced, and goal setting becomes more sophisticated. In senior grades, work-based learning is introduced and postsecondary planning becomes a focused activity.
Empower Your Students to Plan for the Future
Xello ensures you have all the ingredients to inspire students to explore their possibilities and develop secondary and postsecondary plans in line with their career aspirations.
Career Development
Career Development
Postsecondary Planning
Interactive Lessons
Work-Based Learning
Family Portal
Career Development
Postsecondary Planning
Interactive Lessons
Work-Based Learning
Family Portal
Assessment and Exploration
Interactive assessments help students understand their interests, skills, values, personality types and learning styles, and help match students to related careers.

Students then explore career portfolios, containing state and regional labor market data, and interviews with people working in these fields. This information helps students discover high-skill, high-wage, and in-demand careers they may otherwise have not known of.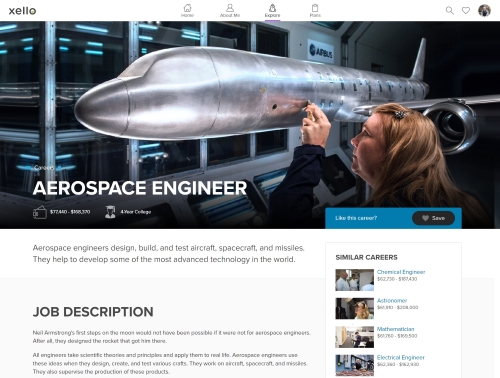 Exploration and Next-Steps
To optimize postsecondary plans, Xello helps students understand the training and credentials required for different careers, and which schools offer these programs.

Xello then eases the postsecondary application process. It helps students manage key dates, transcripts, letters of recommendation, scholarships and financial support submissions—all with Common App integration.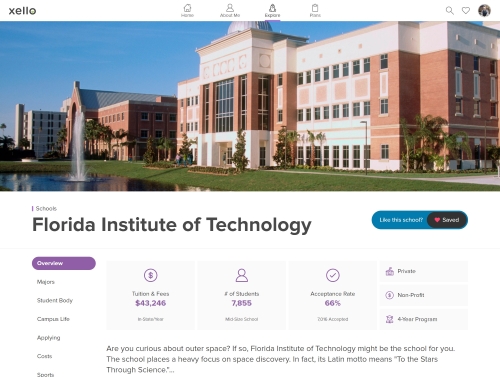 Comprehensive Learning
Xello's grade-by-grade sequence of interactive lessons help students acquire the knowledge they need to meet future readiness requirements.

Starting in middle school, Xello's lessons cover topics such as entrepreneurial skills, workplace skills and attitudes, budgeting, and financial planning, enabling students to build critical career retention and entrepreneurship skills for lifelong learning.
Real-Life Experience Made Easier
Xello makes it easy for students to develop and share professional profiles and resumes, as well as search and apply for local Work-Based Learning opportunities.

Program administrators save time and stay organized with a centralized database to manage contacts, companies, and opportunities. And create efficiencies through a streamlined workflow with an integrated work-based learning and CCR solution.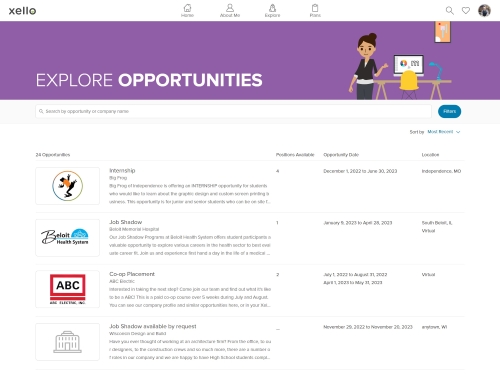 Bringing Parents into the Picture
In Xello's Family Portal, parents and guardians can collaborate with educators to support students on their journey to future-readiness.

What's more, Xello has been professionally translated for Spanish-speaking families across Florida, and is also available in other preferred languages through the Google Translate extension, ensuring no family gets left behind.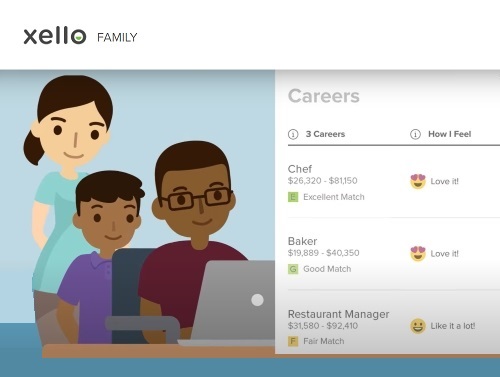 Explore
Xello provides Florida students with the information, data, and experiences they need to bring the world of work to life, make smart decisions about their future, and build the workforce of tomorrow.
Plan
Xello supports students through the entire process of making difficult decisions about careers and postsecondary with training, resources, and tools to ensure student success.
Prepare
Develop students' skills through work-based learning, expand their social capital through meeting industry professionals, and give them the know-how to advance within their chosen career pathways.
Are you an employer interested in providing Work-Based Learning opportunities?
Are you an employer interested in providing Work-Based Learning opportunities?
Consider guest lectures, workplace tours, job shadowing, internships, and more! A regional coordinator will work with you to create a seamless experience for your business, and the schools and students you'll work with.
Enables Florida Educators to Keep Track of Student Progress
Xello provides educators with powerful tools for reporting and student management so they can keep track of whether each student has engaged in career awareness, preparation and readiness activities for their future success.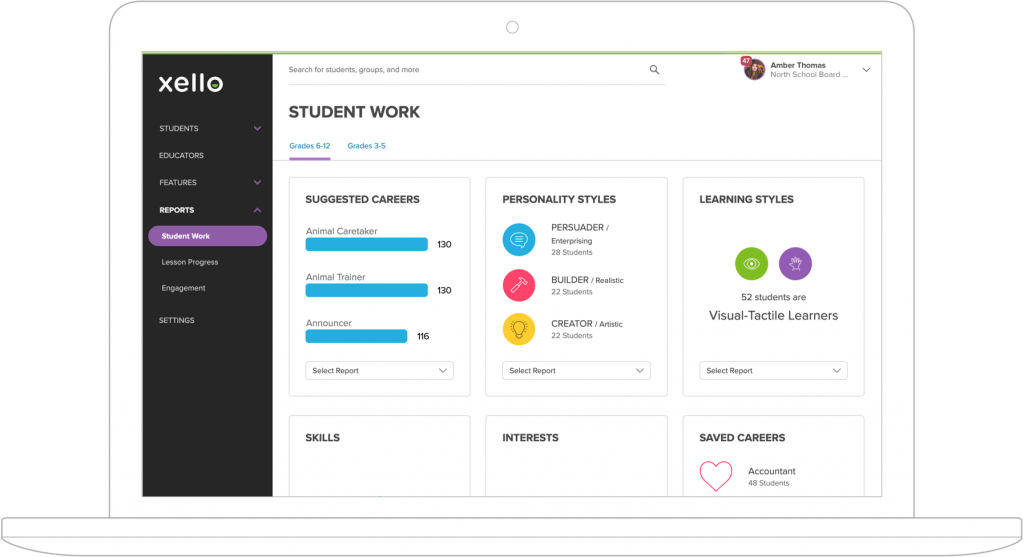 Create Customizable Content with Ease
Whether you're supporting students via remote, hybrid or in-person learning, Xello is built to be flexible. With custom lessons, assignments, and embeddable links and resources, you can easily tailor your curriculum to fit the needs of your district, students or grade.
Actionable, Insightful Reports
Easy to read reports show educators which students are on track and which need a little help. With the CEW Completion Report, Lesson Completion Report and Critical Alerts Report, educators will rest easier knowing they haven't overlooked a student in need of support.
Integrate Work-Based Learning
With Xello's work-based learning module, you can guide students towards local company profiles and opportunities, helping them develop critical career acquisition and retention skills needed to thrive in today's competitive job market.
Implementing Xello in Your District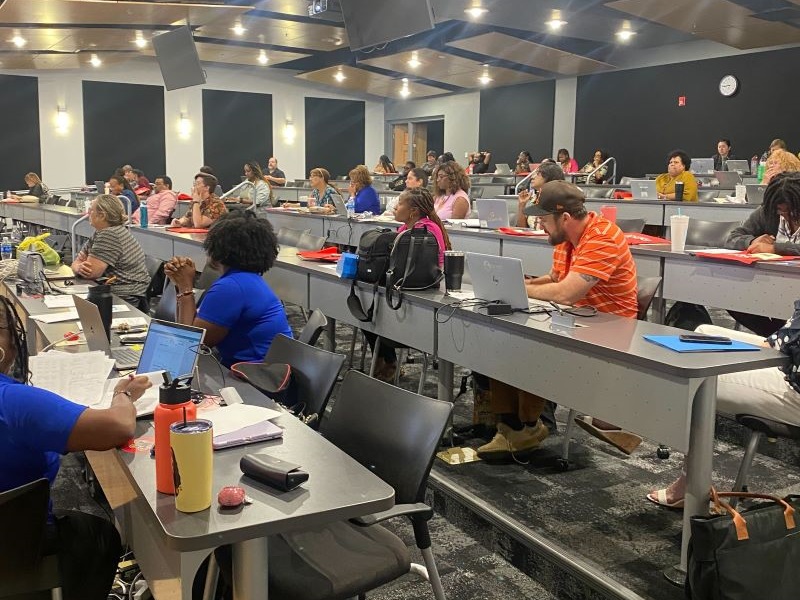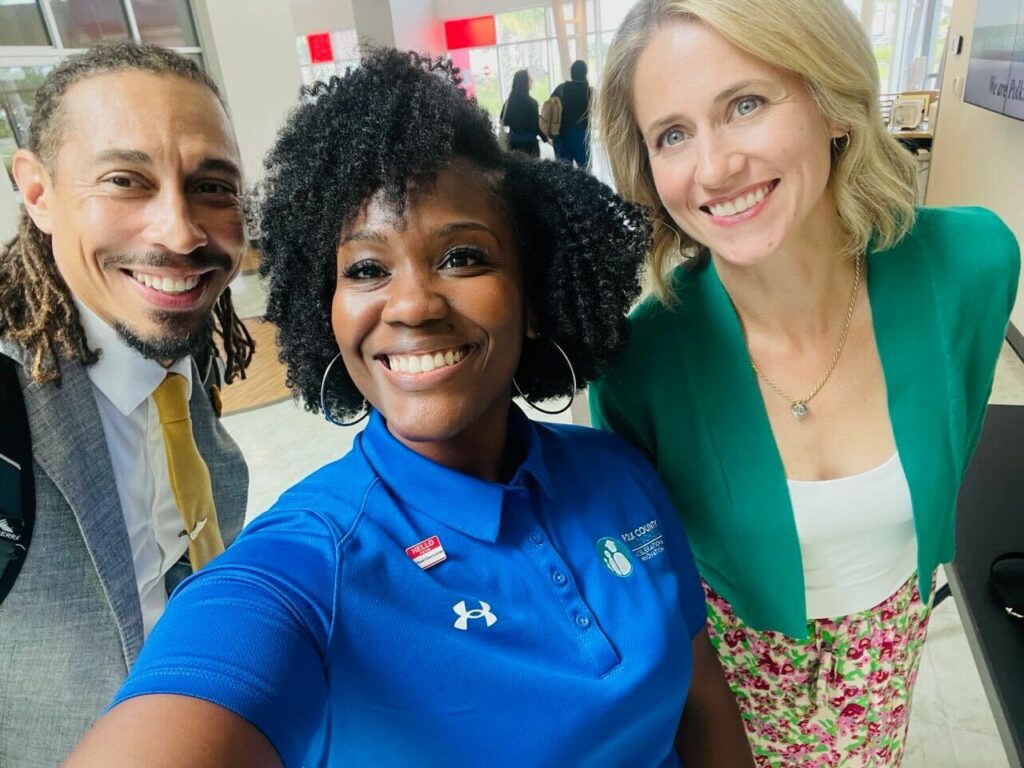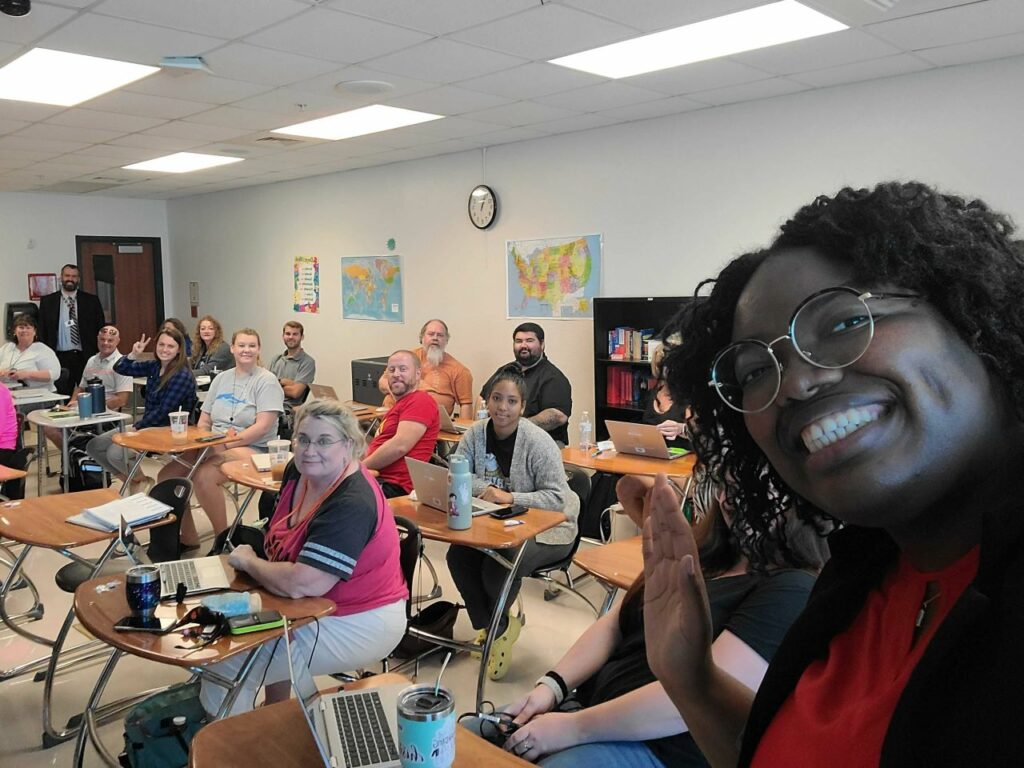 Beginning in fall 2023, all Florida districts will have access, at no-cost, to Xello's full suite of K-12 tools for career exploration and planning, and coordination of work-based learning opportunities.

Xello will be reaching out directly to district administrators to get schools set up for success. Here's a quick overview of the steps involved in implementing Xello at your district.
Schedule a Discovery Call
Meet your Xello Team
Implementation Kick-Off Meeting
Technical Setup/Launch Preparation
Xello Goes Live for Students!
Ongoing Support and Optimization
CASE STUDY
Here's How Xello Set this Florida District Up for Success
Learn why Osceola School District chose Xello to prepare their students for lifelong success.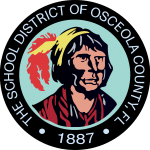 What really jumped out to us about Xello was the student centered component of the program. It's modern, up to date and so student friendly. Ease of access and usage was a big thing that stood out for us as well. And the fact that Xello embeds life skills components within lessons was a big win for our counselors.
Educator Tested, Approved & Awarded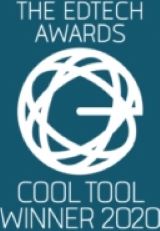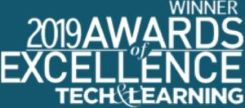 Frequently Asked Questions
How much will Xello cost my district?
Nothing! Program access, training, data integration fees, and unlimited support are all included.
Xello is reaching out to key administrators in all districts. Your launch timetable will be determined by your district leadership.
What training will be available?
We will be offering web-based training for all Florida educators to learn more about Xello and specific aspects of the program, such as the elementary experience, college planning and application tools, assessments, course planning, and more! Stay tuned. At the same time, we will be working with each district to develop a customized training program that ensures all educators are equipped for success.
What does a Xello implementation look like in the classroom?
What educator resources are available for using Xello with students?
If you're looking to explore resources, here are few places to start:
What about adult education students?
We're in the process of expanding the Xello-Florida state contract beyond K-12 to include Adult Ed learners. More information to come shortly.
What is the Future of Work Florida?
Florida is expected to grow from the 16th to the 10th largest economy in the world by 2030.
The Future of Work Florida initiative galvanizes support for Career and Technical Education as a solution to meet Florida's workforce growth needs. Bringing together job creators, industry leaders and education and community partners, the initiative helps showcase the careers of the future and the industries with the most growth potential.
Learn more at
FutureOfWorkFL.com
I use Xello, where can I find Florida specific support?
You can find resources for Florida educators on our help site (
here
). You can also email us anytime with your questions at
help@xello.world
.