Hats off to MajorClarity. It's a program built to help K-12 students learn about various career pathways and make better informed decisions regarding their future beyond high school.

Xello does that too.

But while MajorClarity has focused on building the basic tools you and your students require to check off all the boxes, Xello has focused on creating truly engaging experiences that appeal to today's tech-savvy and diverse student populations.

To successfully engage students, you need a program that delivers the type of cutting-edge experiences kids encounter in their everyday lives on other platforms—a program that's vibrant, accessible and keeps each and every student motivated and empowered to plan their future. Imagine using a software that not only engages your students but also saves you time, leading to more efficient workflows, and helping you achieve positive student outcomes in your district.

If you're looking for MajorClarity alternatives that aim to empower your students to plan for their future and deliver a streamlined experience for educators—read on.
Ready to End Your Search for MajorClarity Alternatives?
Why Xello
Here's the Thing, Xello Is Different
At Xello, we aim to deliver the best possible experience to our clients by building out robust features that guide students through their journey and save educators time. We go beyond the surface and ask ourselves "how can we make this even better?"
We continually re-invest in our user experience to deliver a solution that truly transforms the way you help your students become future-ready. Students using Xello are empowered to chart their own course for future success. And that empowerment leads to greater engagement, academic achievement, and a future-ready student population, making it easy for educators to demonstrate student success in their district.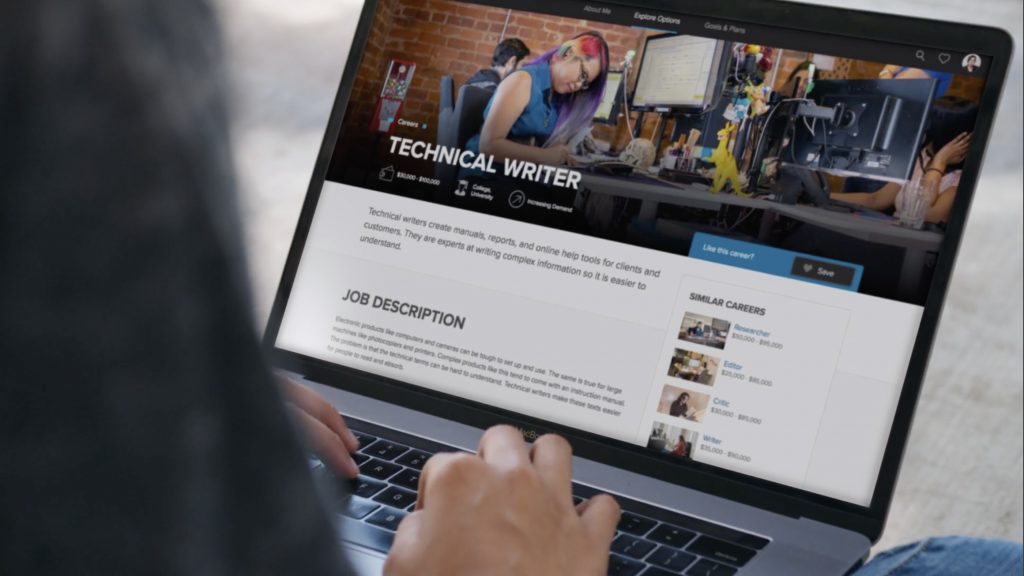 Part of what makes Xello unique is our 24+ years of EdTech experience. Throughout those years, we learned the importance of creating an experience that allows every student to create their own successful path to the future. Planning isn't a "one-size-fits-all" thing. In today's ever-changing world you need a program that's flexible, current, and engaging to capture student attention and help them build the skills and knowledge to succeed.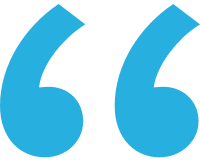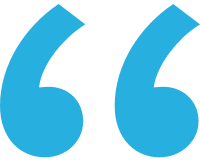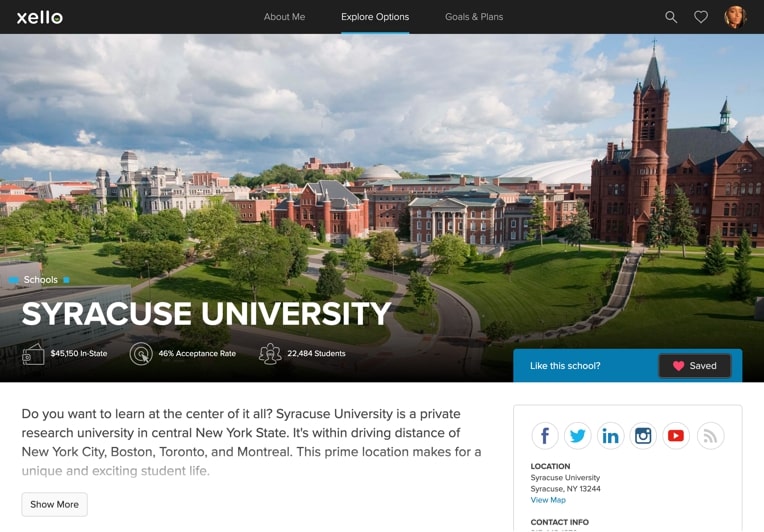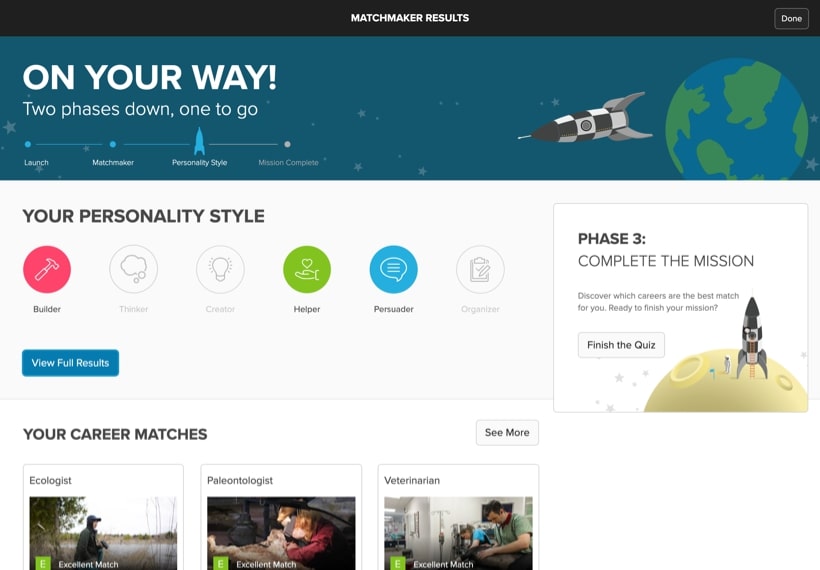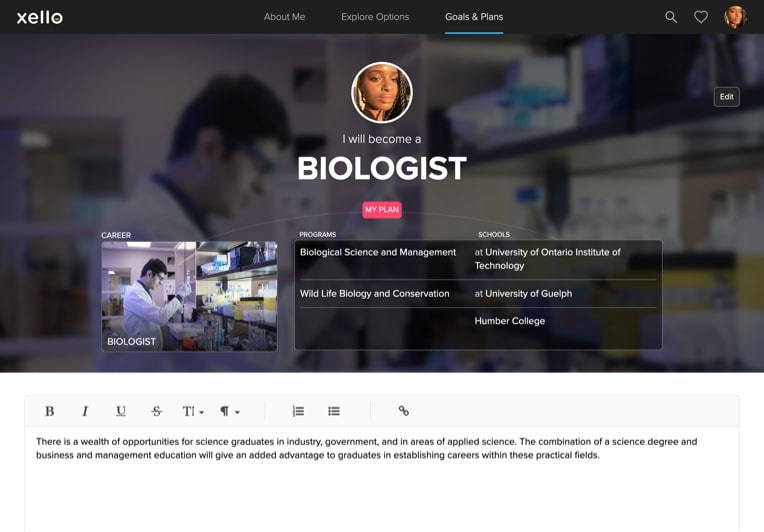 KEY BENEFITS
Why Choose Xello Over MajorClarity?
1
Engage Every Student to Chart Their Own Path
Using technology to improve student outcomes and create successful futures only works if students want to use the program. Xello engages students with a modern experience that's vibrantly designed, intuitive, and age-appropriate, mirroring the software they already use and enjoy in their everyday life.
2
Inspire Future Planning Through Engaging College & Career Profiles
It's easy to throw together a career profile using outdated stock imagery and government content. But does that approach really create a culture of excitement for the future? To get students motivated about their future, you need a program that serves this material in an exciting, and digestible way to drive higher student usage. Through original imagery, narrative-driven content and age-appropriate reading levels, Xello's college and career profiles inspire every student to envision their future—step one in building a meaningful plan.
3
Empower Students to Take Charge of College Exploration
College exploration can be quite overwhelming for students. That's why the Xello platform is designed to operate as a one-stop-shop for meeting your students' diverse college needs. Xello guides students seamlessly through the college application process, helping them search for colleges, learn how to apply and pay for college, and navigate the complexities of scholarships and financial aid options (such as FAFSA) without ever having to leave the platform.
4
Make Course Planning Easier
Elevate the course planning experience. With Xello, you can go beyond just helping students build a plan. You can give every student a way to connect the dots between that plan and their future goals. Xello provides a guided approach to course planning and selection that keeps students motivated and informed. It enables tracking and attainment of CTE programs of study, eases their transition to high school, and ensures alignment to post-secondary goals. Xello's course planner also makes it easy to see exactly what your students are taking and where you might need to intervene—all in one tab.
5
Saves Educators Time, Leading to Efficient Workflows
We know your time is precious. That's why we've designed Xello in a way that delivers a streamlined experience for educators, keeping them organized and on top of their students' progress. Educators don't have to log in through a separate educator portal and can quickly access simple, ready-made reports to track and manage progress at the student, class, school and district levels from their educator account. Moreover, our ready-to-use, fully integrated lessons teach relevant skills at every grade level, saving you valuable curriculum time.
6
Rely on a Program that Prioritizes Accessibility
With the diverse needs of today's student population, accessibility is now more important than ever. While some programs do just enough to meet the minimum requirements for accessibility, Xello has gone the extra mile to ensure compliance. Our program meets WCAG 2.0 (Level AA) standards with full keyboard, screen reader, and low vision accessibility and is also available in Spanish, making it accessible to Spanish speaking students and their families.
7
Unparalleled Customer Support, Every Step of the Way
Xello takes service to the next level. Say goodbye to limited support and hello to assistance you can rely on. Every Xello client receives dedicated account management and access to our expert Client Solutions team. Our team offers unlimited strategic and technical support online, by phone, and in-person. That includes ensuring Xello's properly set-up for your school district, fully integrated with your SIS, and properly configured for easy course planning. Plus, our robust library of free online resources ensures your staff get the help they need, when they need it.
We wanted to create a program that would get students excited to plan their future. But we couldn't do that without close collaboration with educators and students. Our team regularly conducts research to create a product made for students, informed by students, and designed to alleviate the most common issues we hear from district leaders, counselors, and educators today.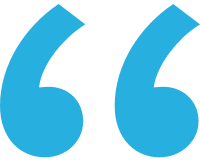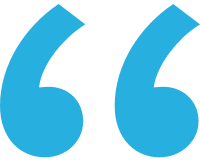 Client Testimonials
But Don't Take Our Word for It!
Check out what our clients are saying about Xello.