We show respect where respect is due. Naviance is a program built to help students make decisions about their post-secondary education, while equipping counselors with tools to manage their workflows.

Xello does that too.

But while Naviance has worked to grow its reputation as a solution for more than just college-bound students, Xello originated from a place of inclusivity. Because for today's tech-savvy and diverse student populations, educators need more. You need a program that helps every student, regardless of background, ability or pathway create their successful future. And that mission requires more than just a college admission. It's a good start, but it can't be the finish line. So it's no surprise you've started a journey to look at your options.

If you're looking for Naviance alternatives that better align with your district's current goals to create successful futures for your entire K–12 student population—regardless of post-secondary pathway—read on.
Ready to End Your Search for Naviance Alternatives?
Why Xello
Here's the Thing, Xello Is Different
Xello is a Naviance alternative that's been purposely built to support all students. It presents a complete view of post-secondary options, including 2 and 4-year colleges, certificate programs, training, and military.

That means students using Xello are empowered to chart their own course for future success. And that empowerment leads to greater engagement, academic achievement, and a future-ready student population.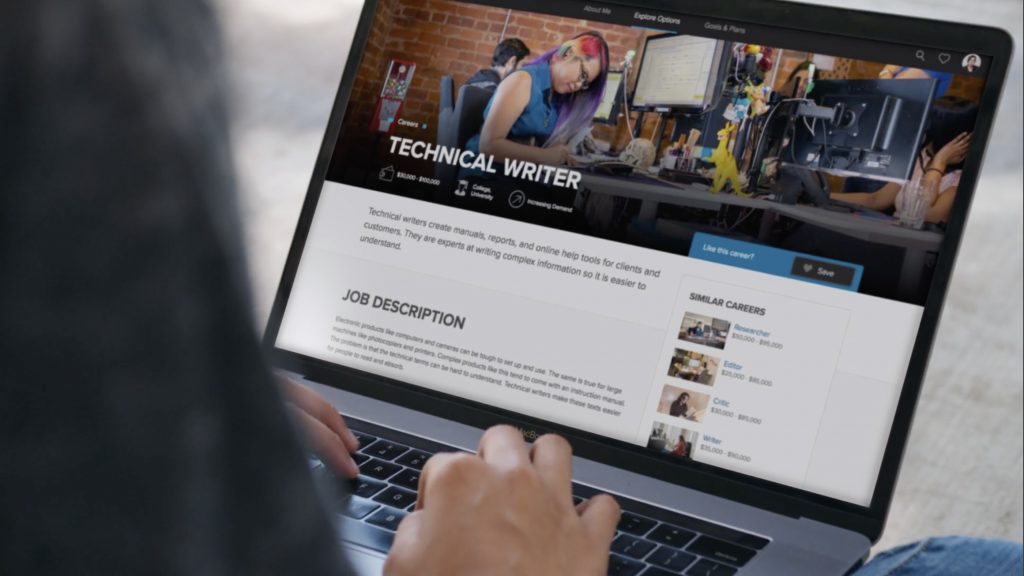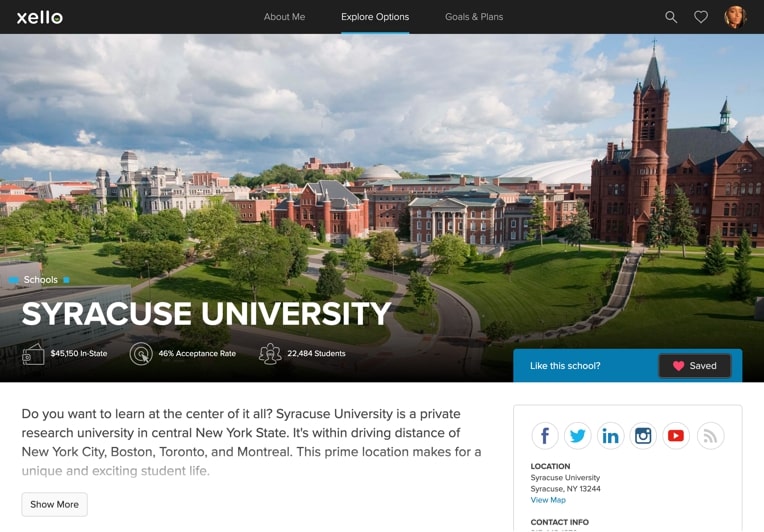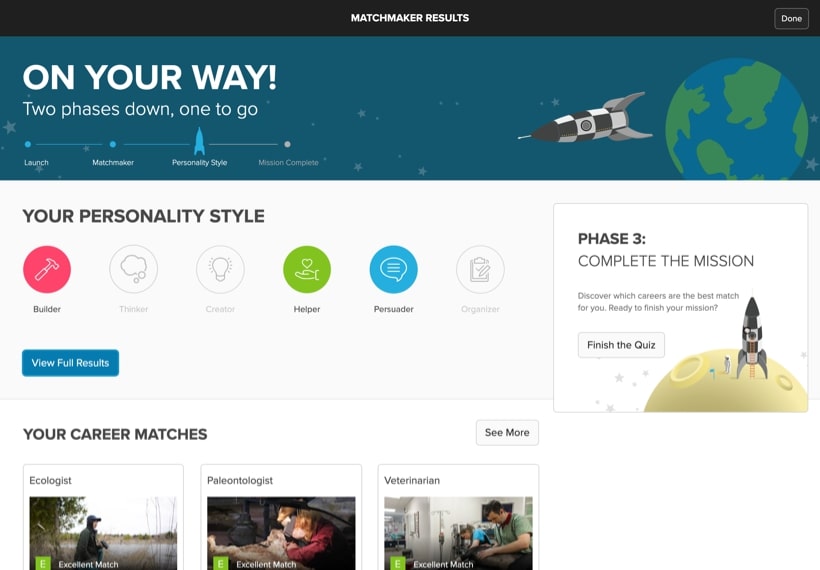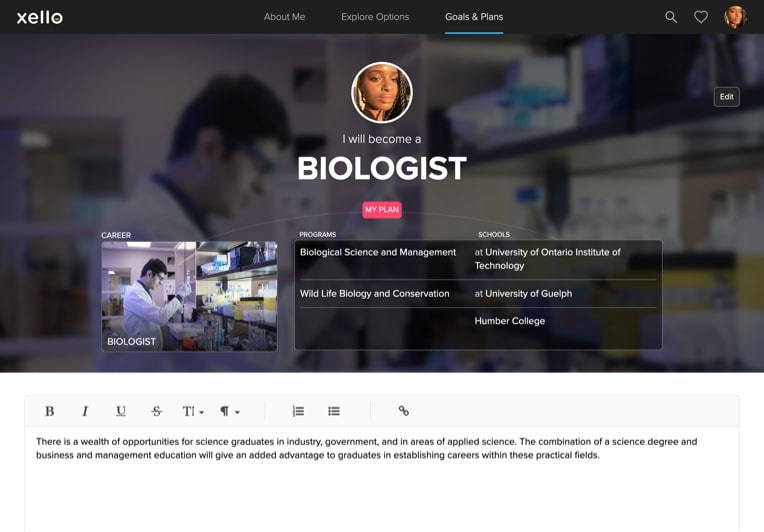 KEY BENEFITS
Why Choose Xello as a Naviance Alternative?
1
Equitably Support All Students, All Pathways
Not all of your students will see college as the right path for themselves straight out of high school. Don't these students deserve to be supported just as much as those who've already defined their pathway? In Xello, each and every student is encouraged to explore a variety of options, whether that be 2-year college, 4-year college, apprenticeship or training--helping them discover the right pathway for them.
2
Keep Each and Every Student Engaged
Using technology to improve student outcomes and create successful futures only works if students want to use the program. Unlike other programs on the market, Xello delivers a modern student experience that's vibrantly designed, intuitive, and age-appropriate, mirroring the software they already use and enjoy in their everyday life.
3
Give Your Youngest Learners a Head-Start
Most programs focus on supporting secondary students, and often need to be manipulated to properly support students in younger years. Xello supports your entire K–12 student population. Spark self-discovery, spur career curiosity, and build future readiness skills through Xello's engaging, age-appropriate experience for K–5 students. Built with the same hallmarks as the Xello 6–12 experience, you can give your elementary students early exposure to the world-of-work and watch them seamlessly transition into the middle and high school program.
4
Make Course Planning Easier
Elevate the course planning experience. With Xello you can go beyond just helping students build a plan. You can give every student a way to connect the dots between that plan and their future goals. Xello provides a guided approach to course planning and selection that keeps students motivated and informed. It enables tracking and attainment of CTE programs of study, eases their transition to high school, and ensures alignment to post-secondary goals.
5
Inspire Future Planning Through Engaging College and Career Profiles
To get students motivated, you need a program that serves up college and career content in an exciting, and digestible, way. Through original imagery, narrative-driven content, and age-appropriate reading levels, Xello's college and career profiles inspire every student to envision their future—step one in building a meaningful plan.
6
Intuitive Reports and Tracking for the Entire District
Naviance is a valuable tool used commonly in counseling departments, but who else in your district is helping to shape student futures? With Xello's dedication to all students of all pathways, our program is packed with content, curriculum, and reporting tools that benefit all stakeholders, including counseling, CTE, curriculum instruction, and more.
7
Lean on Exceptional Client Support, Every Step of the Way
Xello takes service to the next level. Say goodbye to limited support hours and hello to assistance you can rely on. Every Xello client receives dedicated account management and access to our expert Client Solutions team. That way, you'll always be connected to a Xello representative who knows your district's profile inside and out. Plus, our robust library of free online resources ensures your staff get the help they need, when they need it.
We wanted to create a program that would get students excited to plan their future. But we couldn't do that without close collaboration with educators and students. Our team regularly conducts research to create a product made for students, informed by students, and designed to alleviate the most common issues we hear from district leaders, counselors, and educators today.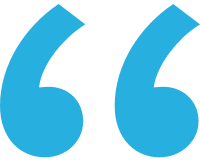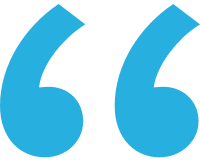 Client Testimonials
But Don't Take Our Word for It!
Check out what our clients are saying about Xello.
Part of what makes Xello unique is our 24+ years of EdTech experience. Throughout those years, we learned the importance of creating an experience that allows every student to create their own successful path to the future. Planning isn't a "one-size-fits-all" thing. In today's ever-changing world you need a program that's flexible, current, and engaging to capture student attention and help them build the skills and knowledge to succeed.