Bridge the Gap Between Families, Educators, and Students with the Xello Family Portal
Xello Team
|
April 12, 2021
With Xello's new Family Portal, parents and guardians can collaborate with educators to support their child's journey to future readiness.
There are so many different things students need to consider and plan for when exploring their post-secondary options. While it's important for students to take ownership of their futures and their future plans, the caring adults in their life play an essential supporting role.
Parental engagement in a child's education has been proven to have both positive academic and social outcomes. Having both educators and guardians on the same page when it comes to a student's future goals helps keep students engaged and encourages them to continue pursuing their journey to career readiness.
However, collaboration between families and educators can be challenging, due in part to busy schedules, unclear lines of communication, and a lack of shared understanding about students' future goals and plans.
Empower Parents and Guardians to Help Students Prepare for Future Success
Xello's Family Portal is a new features that is intended to invite parents and guardians to gain visibility into their child's future goals and plans; this way they can better support their child's learning and development.
The read-only experience of the Family Portal helps parents and guardians gain a deeper understanding of their child's interests, goals, and plans so they can support them along the way. Similar to the educator experience, families can see the student's progress on lessons, assessments, and career and university exploration. And with built-in guidance, educators can also feel confident that parents and guardians will be able to explore Xello on their own.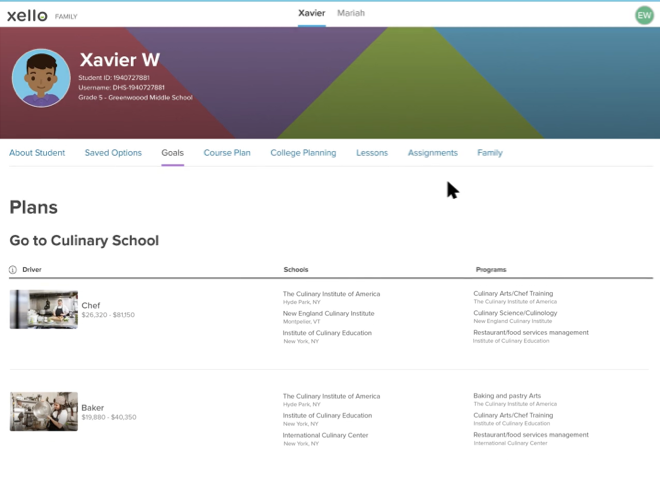 Educators Can Easily Track and Manage Family Accounts
As an educator, you can easily add, edit or unlink family accounts to ensure the right guardian, or even mentor, has access to a student's profile. The family account details are readily available in an individual student's profile so you can quickly reference the information.
The new parents tab also helps you keep track of all family accounts. Not only can you see which accounts are linked to each student, but also the last time a guardian logged into the portal. And with filters to sort by year group, you can quickly take the measure of how engaged families are across your school or college.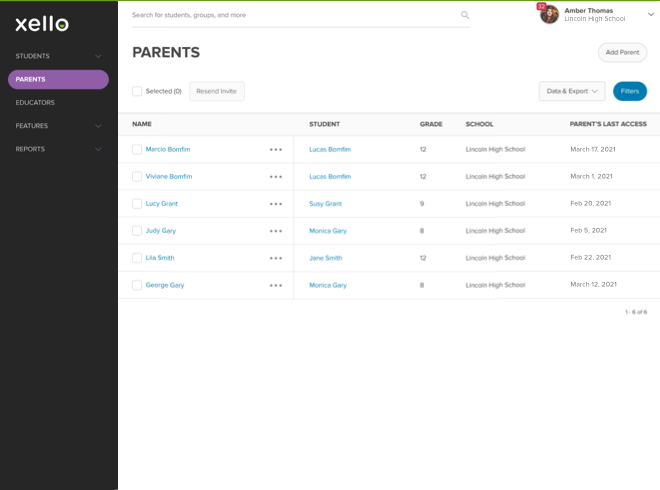 Ready for Better Collaboration between Families and Educators?
If you're a Xello client, you will see a new parent tab appear on your educator tools navigation over the summer of 2021. To streamline the account creation process, connect with your Xello Success Manager today. If you're not sure who to get in touch with, drop us an email at help@xello.world – we'll be happy to connect with the right team member.
If you don't have Xello at your school or college, request a personalised Xello demo today!