The Benefit of Career Exploration for Students
Georgina Ferrier
|
October 5, 2022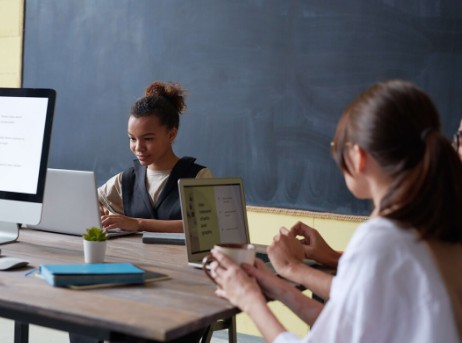 Check out these two research assignments that can be completed in the classroom or at home, and that can provide students with a real perspective on their future.
When students became home-bound in the spring of 2020, it was a challenge for educators and parents to keep them engaged and help them continue to plan for their future.
In response to that challenge, we created two take-home assignments and a follow-up reflection, for students in Years 7 to 9, that will help them take the lead on career exploration and stay engaged with future planning.
Assignment 1: Career Reality Check
Students pick one to three careers that they'd like to pursue. There should be no limit to their choices; professional football player, artificial intelligence engineer, president of Nerf Enterprises… anything goes. The main requirement is that career exploration has to go deep.
Students should attempt to understand what it means to actually do the job, including answering:
How in demand is this career in the job market? i.e. how easy or difficult will it be to get a job in this sector?
What are the core tasks involved with this career? i.e. what kind of tasks will be done on a daily basis?
What are the working conditions? i.e. Is it indoors or outdoors? How many hours a week are typically worked? Do you work alone or as part of a team? Do you manage other people or take orders from a supervisor?
What 'soft skills' are helpful for this role, i.e. communication, problem-solving, critical thinking, collaboration, etc.?
Is travel required? How often? Where?
What is the starting salary? What is considered the peak salary for an experienced person in this role?
Once they understand the end result, students should work backwards to determine the available post-secondary pathways to get there, including:
What qualification levels are required to get a job in this field? i.e. how many GCSEs or A Levels are needed? Does it require a degree, apprenticeship, BTEC or professional qualification, etc.?
How long does it take to complete the education that qualifies you for this career?
Find three colleges, universities or apprenticeships that offer the type of study required for the career.
Estimate the overall cost of the education/training.
Then it's time to pull back even further to help students determine what they can do in secondary school to prepare for this career, including:
Are there speciality programs in schools that would increase the chances of getting into a college, university or an apprenticeship of their choice?
What are the required subjects to get into an appropriate post-16 or post-18 program?
What kind of grades are generally needed to gain admittance?
Are there extracurricular activities that would help your application get noticed?
This is a lot of information for students to uncover. Encourage students to use multiple resources, such as:
High-quality edtech programs, like Xello, that offer detailed information about careers and the related post-secondary pathways. Xello provides rich content, photos, and real-world interviews to offer even more insight into what it's like to be on the job.
Professional associations are a good place to find people or organisations who can provide more information about a particular career. Students could interview someone (over the phone) who's been in the business for a while.
College and university websites.
Assignment 2: Passions Project
After they've completed assignment 1, students may be more fired up than ever to pursue a particular career—or the wind may have been knocked out of their sails as they realise it might not be a good fit. Either way, the reality check continues.
Now it's time for students to take a deep dive within so they can identify their passions, skills, and preferences. Ask students to think about their strengths, challenges, and interests without connecting them to a post-secondary pathway or career they might match.
Things they might explore include:
What kinds of things am I good at? i.e. reading/ writing, maths, science, etc.
What kinds of things outside of school am I good at? i.e. Taking care of a younger sibling, playing a sport or musical instrument, organising get-togethers with friends, etc.
How do I love to spend my time? i.e. Solitary activities like reading, watching movies, playing video games, drawing; social activities like being on a team, hanging out with friends, etc.
Do I like to be outdoors or indoors more? (Or a mix of both?)
What kind of activities are so absorbing and fulfilling that time passes quickly without me noticing? What is it about these activities that make them feel so enthralling?
When I think about my dream job, what makes it feel exciting?
Although this assignment requires more self-exploration than research, there are resources, such as Xello, that can help students find what drives them. Xello offers interactive personality and learning style assessments that help students narrow down their strengths and passions.
Follow-Up Requirement
Now that students have completed the two independent discoveries, it's time for them to reflect on their findings. Help them draw clear lines between their new self-awareness and the reality of the careers they chose to study.
Questions may include:
In assignment 1, did you learn anything about the career path that surprised you? What was it? Does it make you more or less likely to choose that career? Why?
In assignment 2, did you learn anything about yourself that surprised you? What was it? Why?
Based on assignments 1 and 2, are you suited to the career you thought you wanted to pursue? If so, how? (i.e. which of your strengths, passions make it a good fit?) If not, why not? (i.e. too much solitary work when I'm a social person or vice versa.)
Based on what you learned about yourself, what kind of careers do you think you're suited for? Explain why you think they are a realistic choice.
The benefits of career exploration that's rooted in reality allow students to uncover information they can't foresee. Rather than asking them to plan for a career that may not be a good fit for them, you're giving them the tools to make important discoveries.
And the best part is that you're keeping them productive and on top of their future planning goals regardless of whether they are learning in the classroom or from home.