Hello! We're Xello.
An education software company powered by passionate people who are committed to helping every student become future ready.

We Help Students Become Future Ready
We were inspired by our own experiences after graduating and wondering, "What's next?" We weren't alone. The inability to answer this single, seemingly easy question was also problematic for our friends and peers. Few of them had concrete ideas about what they wanted to do with their lives. Their understanding of their options was usually very limited, and more determined by superficial and inaccurate stereotypes than the realities of the working world. Those who did have a vision for their future struggled to bring those ideas to life.
We Help Students Become Future Ready
Since uncovering this problem over 20 years ago, we've dedicated ourselves to building solutions to help students become future ready. Our engaging, fun-to-use software bridges the gap between young people and the working world. It shows every student their future possibilities and equips them with the knowledge, skills, and insights to make informed decisions and build actionable plans. It helps every student take control of who they'll be and what they'll become, giving them the confidence to take that next step towards their successful future.
How We Got Here
1995
Career Cruising is founded by Matt McQuillen, Jeff Harris, and Angus McMurtry.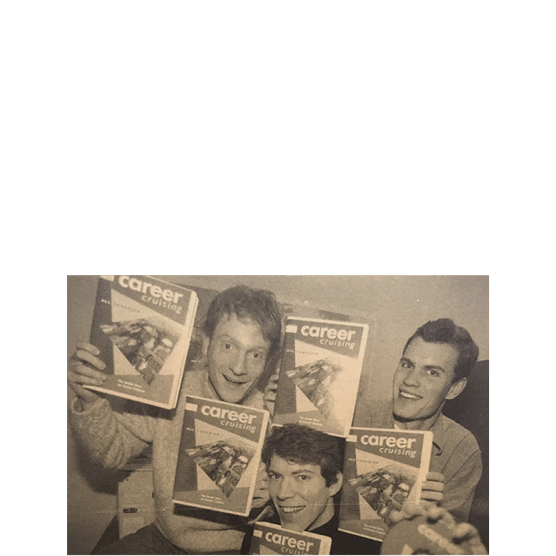 1997
We release the first version of Career Cruising with 150 career profiles on CD-ROM with sound and video.
1999
We move out of the basement and into our first real office.
2000
We take Career Cruising to the World Wide Web.
2002
Online student portfolios are added to the program.
2003
Reports and dashboards for educators are released.
2005
Hola! Bonjour! Spanish and French languages are introduced.
2007
We outgrow our office and move to new digs.
2008
High school course planning is introduced.
2014
Research and development on a next generation product begins.
2016
We welcome our 100th employee. Woot!
2017
Hello Xello! We introduce a brand-new program and, at the same time, rebrand the company from Career Cruising to Xello.
2018
Interactive and fully integrated lessons are released.
2018
We launch a mobile version of Xello.
Want to Help Us Write the Next Chapter in Our Story?
Learn More
The Passionate People Behind Xello
We're a dynamic and diverse group of people united by our mission to help every student become future ready. We believe the best way to achieve success is through creativity, authenticity, and collaboration — plus having a lot of fun along the way!