What Is a Student Ambassador?
Larry Bernstein
|
April 1, 2022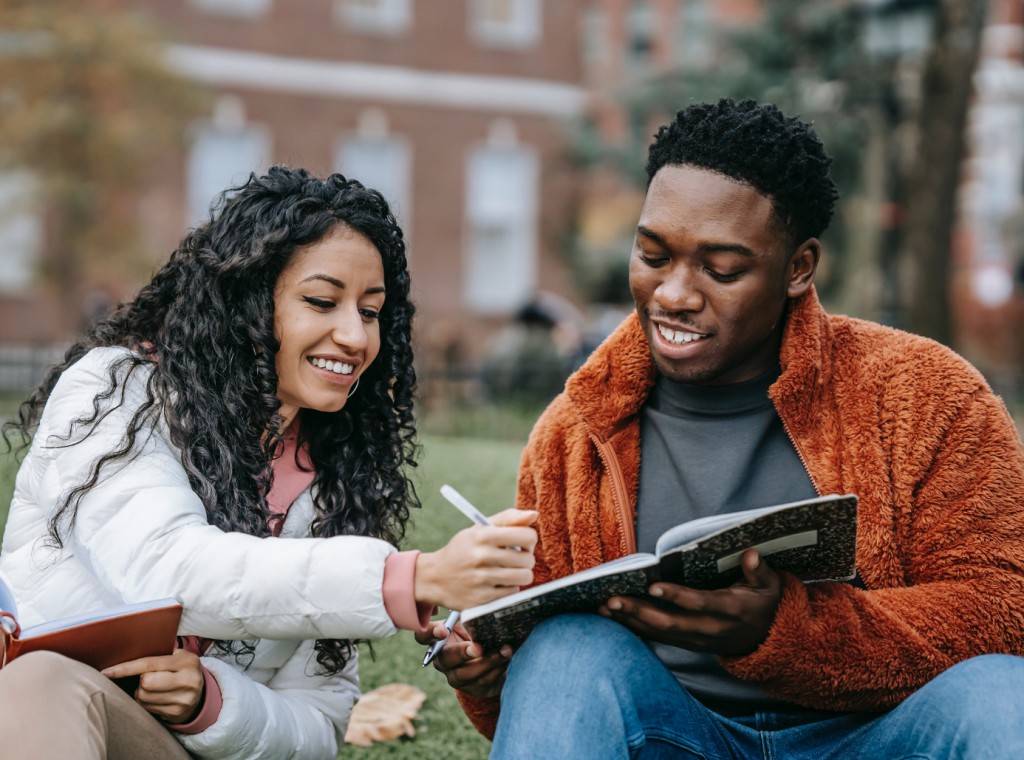 Peer-to-peer connections make the college prospecting process so much easier on high school students. So what exactly is a student ambassador?
We've all experienced it: Positive word of mouth about a product or brand is invaluable. Ambassadors of a product or brand who talk about its benefits can convince someone who is uncertain to act. Student ambassadors play a similar role for colleges and universities. And a successful student ambassador can make a college more attractive to prospective students.
What Is the Role of a Student Ambassador?
Let's back up and review what student ambassadors are. A student ambassador, according to Finalsite is "…chosen to represent your school to prospective students and their parents throughout the admissions process… these pupils act as liaisons between the school staff and current student body, and those considering attending."
When it comes to students trying to determine the right school, if it fits their needs, if it fits within their budget—the college admissions process can be daunting for high school students and their families. From the email and mailings from colleges across the country to filling out reams of paperwork, the college decision process requires a good deal of time and effort.
Having knowledgeable peers to support them along the journey can make the decision process a little less overwhelming. Like alumni and high school counselors, student ambassadors can help with the process. The student ambassador is that person, however, who is on campus. They can act as a face for the college and therefore humanize the process. High school students have a peer who has gone through the admissions process and is very familiar with college life.
How Do Student Ambassadors Work with High Schoolers?
Student ambassadors can interact with high school students (and their families) in multiple ways. The most common way is through campus tours. For many high school students, their first time at the college is at a campus tour. It's instrumental in the decision-making process and is often the first time a prospective student meets a current student.
So, college ambassadors conduct campus tours. Besides showing students around during campus tours, student ambassadors answer questions about relevant programs and convey a sense of the environment.
By the time the campus tours are over, a high school student may feel a connection to the student ambassador. Therefore, when they return home and a question pops up or they need someone to provide tips, the high school student can feel comfortable reaching out to the student ambassador.
It should be noted that student ambassadors work for the college/university. They typically are paid and or may be receiving money off their tuition. Other benefits for student ambassadors include gaining skills and work experience that are valuable to their future careers. Another benefit is the potential opportunities to interact with staff and faculty from the university as well as high schools.
However, an effective student ambassador needs to be genuine with a true desire to want to help high school students in their decision-making process.
Student ambassadors may interact with high school students in other ways, as well as including reaching out via email, social media, or calling. They may offer Q&As with prospective students, be part of open houses and orientation events. The student ambassador keeps in contact with high school students throughout the enrollment process.
And these interactions have an impact on enrollment. According to a survey reported on in District Administration magazine, "Some 57% of respondents involved in more than 370,000 online conversations cited input from student ambassadors as the most helpful part of the application and admissions process."
Student Ambassador Qualifications
Being a student ambassador requires multiple talents including leadership skills. Good communication skills is the most essential qualification for a student ambassador. They need to be able to communicate the university's message to prospective students.
Yet, a student ambassador is not a robot who only spouts off that their college is wonderful while they conduct campus tours. When people are passionate about something, they often like to communicate with others, so they will see what makes that something special.
This is student ambassadors and their university. They feel truly engaged and passionate about their university and be able to give that over while they conduct college tours or any other time they are in communication with prospective students.
Another way to communicate genuinely with high school students, "Ideally, your student ambassador should see things from the recruit's point of view and can act as a guide to incoming students," according to Cardinal Digital Marketing, which works colleges and universities. "Students care about things like: how are the living arrangements at the campus, what's the student dining hall like, and is the community accepting of people like me? The student ambassador can say "I've been there and done that."
Besides strong communication skills, a student ambassador is someone who wants to help others. They feel a sense of fulfillment knowing that they have helped a high school student in the decision-making process. Being a helper requires patience and answering questions. Sometimes a student is really uncertain, and they need assistance. Knowing they can communicate with someone who wants to help them can set them at ease as they decide what school to attend.
Another qualification of a student ambassador is curiosity. A student ambassador needs to be prepared to answer questions about the university from diverse populations.
There are some typical questions: "Where's the dining hall?" or "How much snow does the area get in the winter?" and others that require student ambassadors to be very familiar with the university, campus, and surrounding area. By being curious and knowing the university in an out, student ambassadors can provide tips to students and articulate the school's benefits.
How High School Educators Can encourage Students to See Student Ambassadors As a Valuable Resource
High school students may feel reluctant to communicate with the student ambassador. They don't want to bother them or think their questions or concerns can't be answered or they may be judged. To get high school students to turn to a student ambassador, they need to recognize that they're here to help alleviate any anxiety that comes along with the decision-making process. High school educators, who know the students from working with them, should remind their students of this fact.
Student ambassadors are congenial, enjoy talking to new students and have experience dealing with diverse populations. Yes, discussing student life, articulating benefits of the university, and playing a role in student recruitment is their job. They want to talk to prospective students whether it's on campus/ in person or online because they enjoy helping people.
Understanding student life and programs play an important part in deciding which colleges to apply to. But what about admissions? Talking to current students about their experience can give prospective students insight on how to make their application the best it can be.
The student ambassador can fill in the gaps the high school counselor might not know (even if they're alumni). A school counselor, and other school personnel, can explain to their high school student that tapping into the insights of the student ambassador can give them a leg up in the admissions process.
At some colleges, student ambassadors take part in outreach programs related to admissions. They give workshops on topics including the SAT and FASFA. Part of the ambassador's job may even be editing personal statements for students to use for scholarship applications.
By engaging with the student ambassador, a high school will be more prepared for the college experience. It's possible engaging with and developing a rapport with the student ambassador could increase the chances for acceptance to the school. Either way, it will help students who are interested in becoming college ambassadors when they arrive on campus.
Besides encouraging their students to interact with student ambassadors, high school educators can make it part of the college and career readiness program. A successful student must be able to show that they are in contact with student ambassadors. Perhaps, students will fill out a report detailing their communications with the student ambassador.
For students interested in attending college, communicating with a student ambassador is a major benefit. So, making it a requirement is something high schools should consider.
Student ambassadors help higher education institutions reach potential students. Those who take on the role of student ambassador get an opportunity to grow their leadership skills. They use their strong communication skills and help prospective students through an exciting yet challenging time.
High school students can gain a lot by interacting with student ambassadors. Therefore, high school personnel should encourage their students to keep in contact with student ambassadors.