Why Colleges Should Invest in a Campus Ambassador Program
Heather Hudson
|
July 13, 2022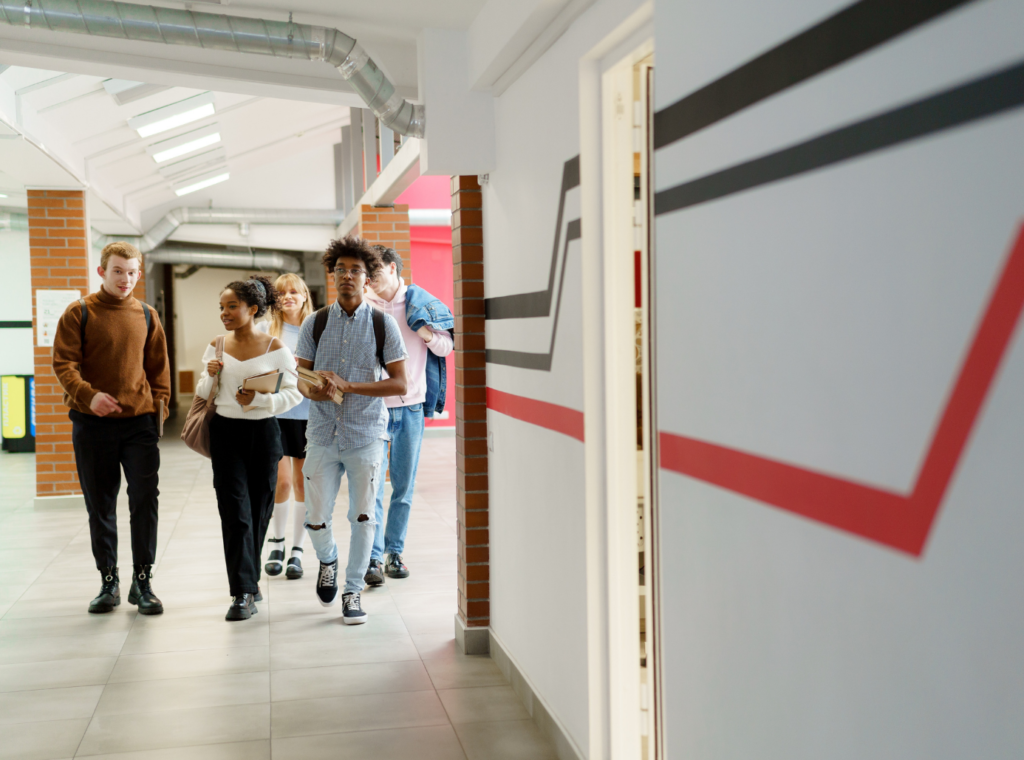 Find out what a campus ambassador program can do for your college!
What do Michael Jordan, Jennifer Aniston, and Ryan Reynolds have in common? (Besides being celebrity millionaires, of course.)
They're some of the most popular brand ambassadors in the marketing game. Michael Jordan has partnered with Nike since 1984. Jennifer Aniston has shilled everything from bottled water to skin and hair care products to protein bars. And Ryan Reynolds is so good at creating buzz for his gin and mobile phone companies that he founded his own wildly successful marketing agency.
If multi-billion dollar companies put their marketing confidence in brand ambassadors, think of what a campus ambassador program could do for your college.
Don't have a Nike-sized budget for a celebrity endorsement? That's okay. A college campus ambassador program can harness the power of real-life college students – who have arguably lower rates than celebrities – and can generate excitement about attending your institution. And that's just the beginning of your program.
In this article, we'll explore what a campus ambassador program could include – and why you should consider creating one for your college.
What is a campus ambassador program?
You want to attract high-quality high school students to enroll in your college, but it can be difficult to connect with students, particularly if they live out of state. Enter the power of the student ambassador program.
This kind of initiative is designed to connect existing college students with prospective pupils to not only extol the virtues of your institution and your campus, but to help personalize the experience and set them up for success before they even begin.
What could a campus ambassador program include?
Just like a celebrity brand partnership, a campus ambassador program is centred around the power of influence from existing students. An LTK study found that 92% of Gen Z adults credit social media influencer recommendations as the most important driver of purchase decisions online, above brands, retailers, celebrities, and store associates.
When you put that in the context of college decision making, it's critical for institutions to have their own social media ambassadors who can serve as trusted and compelling influencers. Under the oversight of the admissions department, these student ambassadors should be willing and able to:
Post videos and images about campus life on social media, including:

Instagram
Snapchat
TikTok
Twitter

Connect with prospective students 1-on-1 to answer questions and offer custom information
Participate in in-person/virtual tours, recruitment events, webinars on various aspects of student life, the admissions process, classes, etc.
Paint a compelling picture of what it's like to be a successful student
How Do You Choose Campus Ambassadors?
It's critical to select campus ambassadors who represent the diversity of the existing – and future – student population. Prospective students need to see themselves reflected in the people who represent your college in order to feel like they could thrive at your institution.
Depending on the size of your college, you may want to invest in several ambassadors who can show off all the sides of your institution and the communities that exist within it. This should include people who identify as BIPOC (Black, Indigenous, People of Color), LGBTQ2S+, and neurodiverse. You might have a representative from your most popular programs of study and an ambassador from every (available) state/region and country who can connect with prospects from their homelands.
In addition to "auditioning" students for their suitability to be a campus brand ambassador, it'll be important to ensure that their social media feeds align with the values of your college – or at least don't flagrantly contravene them. Remember, it's important for representatives to be relatable to other, younger students, so it may not be reasonable to accept only model scholars. Your student ambassador program should be a realistic cross-section of the student body.
Important qualities to look for in campus ambassadors include:
A friendly, positive nature
Keen knowledge of your college, with particular "expertise" in a few key areas
An established online presence
Leadership skills
Ability to communicate clearly
Ability to grow relationships
Are there existing tools that help run a successful campus ambassador program?
While it's possible to create a program with nothing more than a set of strong campus ambassadors who are savvy with social media, there are solutions that can help you avoid the headaches of creating your program from scratch.
For example, we're launching Xello for Higher Education, a feature of our future readiness program designed to help colleges attract and engage prospective students through genuine, peer-to-peer conversations about what they can expect to experience at your institution.
The program will enable your college to:
Meet students where they are. You'll have access to over 1 million high school students and educators already using the Xello program to research and apply to college.
Join active discussions with real students. Your ambassadors can create and customize their profiles, chat 1-on-1, and facilitate community-wide conversations with prospective students to help them understand what makes your institution unique.
Stand out from the crowd. You'll have access to tools that attract the attention of students, regardless of the size of your institution or marketing budget.
Forge genuine connections. You can engage students who show interest in your institution through 1-on-1 and community-based conversations.
Build a community around your school profile. A dedicated page for every college will serve as ground zero for prospective students, campus ambassadors, and members of your admissions, financial aid, and residence life teams can connect and share all kinds of information.
Access the reports you need to target best-fit students. Your admissions, financial aid, and residence life team members can receive information about the students who have joined or interacted with their community so you can follow up and help guide students through the application process.
The goal of any campus ambassador program is to humanize the recruitment process, making it less daunting and more relatable for high school students. With the combination of the right tools and the right people, your institution could be the next Nike of the academic world. You've just got to find your Michael Jordan.