2021/22 Year-in-Review: What Launched in Xello?
Kate McKenzie
|
April 20, 2022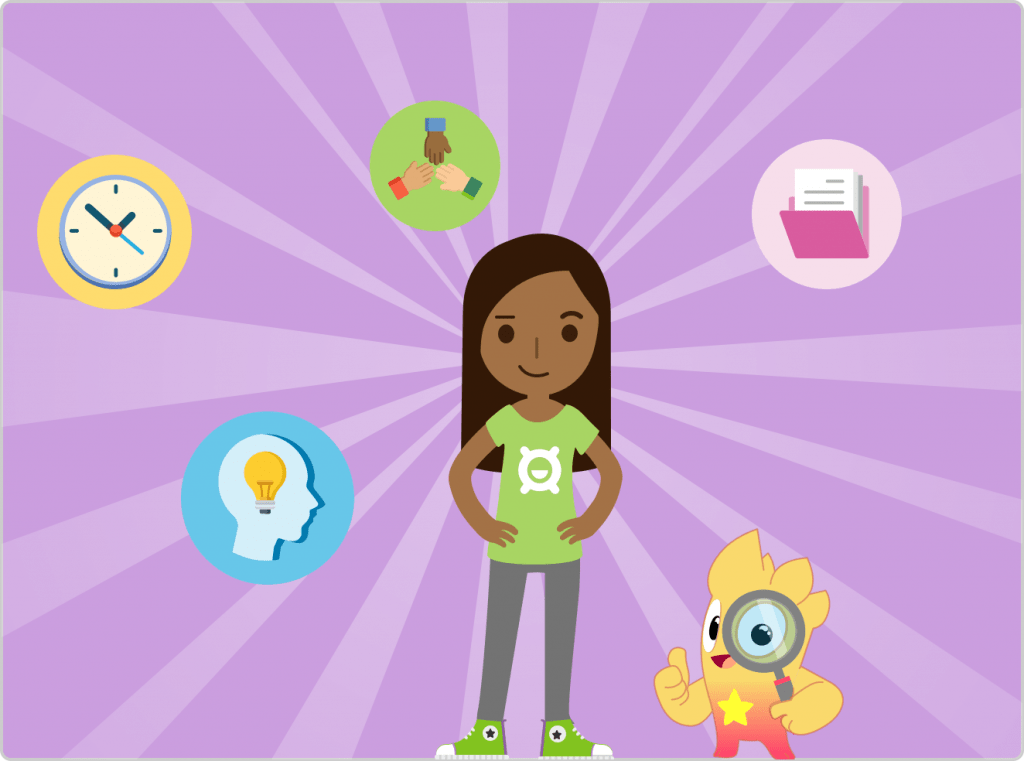 Over the past few years, Xello has doubled-down on its efforts to support all students, no matter their learning environment, age, or ability. This past 2021-2022 school year was no different.
Xello strongly believes that to support the whole child, their entire ecosystem has to be involved, including families, administrators, counselors, teachers, and community members. All of these groups –and more– help support students with resources and experiences they need to become future-ready.
That's why our goal is to not only create a robust, personalized, and age-appropriate future readiness platform for students, but to also make it engaging and easy-to-use for educators and families. Like anything in life, the more college and career readiness (CCR) skills are taught, practiced, and modeled in a variety of settings, the more ingrained and habitual they'll become.
Our Year in Review: What Launched in Xello?
Take a look at what Xello introduced in the 2021-2022 school year to support your students' future readiness skills.
Family Portal
Xello's Family Portal extends CCR from the classroom into the home, bridging the gap that sometimes occurs between educators, families, and students.
With this portal, families have full, read-only access to their student's work. This gives families insight into their child's future goals and plans, and opportunities to discuss how they can support their efforts. Educators also have the option of sending home ready-made resources to help families encourage different future-ready strategies at home.
What's more, Xello provides district administrators with presentations, letters, and other marketing resources to support communication and alignment across all stakeholders. By connecting home and school, you are helping ensure buy-in and program success of your CCR efforts.
Reports: Lessons by Site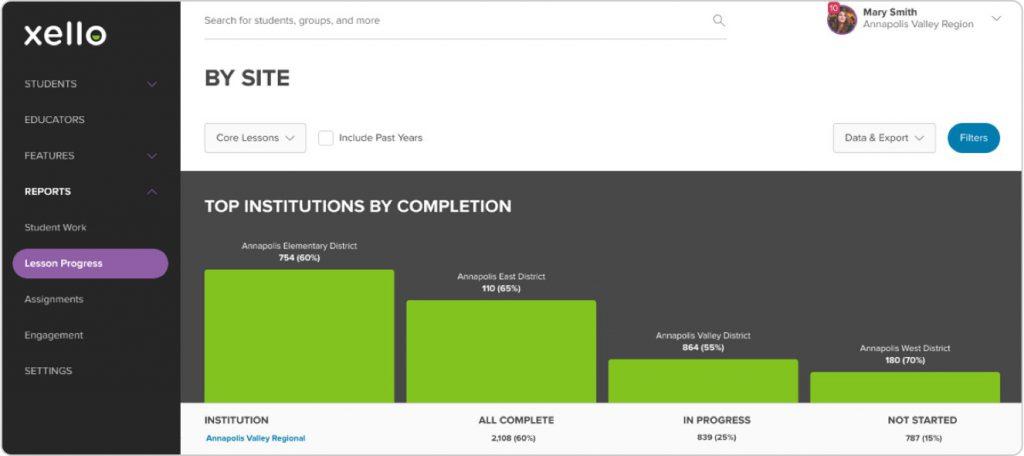 This new report makes it even easier to see and compare lesson completion at each school in your district. Why is comparing district-wide usage important?
It allows district leads to gain a deeper understanding of lesson completion rates.
It helps identify schools that fully embed Xello into their lessons and pinpoint buildings that may need additional support in implementation.
It helps create alignment across buildings so students are on pace for future readiness, no matter what school they attend.
It provides the necessary data for Integrated State Mandate Reporting.
Elementary: Three New Missions
Xello introduced three new elementary missions for grades 3-5 that focus on emotional self-control, skills and habits for success in school and beyond, and the education and training that prepare people for jobs.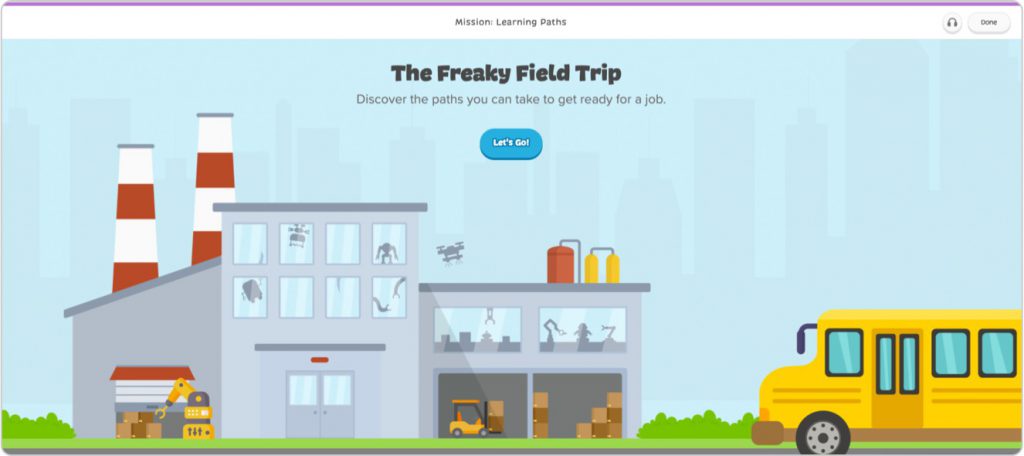 Managing Big Feelings: This lesson, recommended for 3rd grade students, provides strategies on how students can take charge of strong feelings.
Tools for Success: This lesson, recommended for 4th graders, helps students explore skills and habits to help them do their best
Learning Pathways: This lesson for 5th graders presents the various paths you can take to get ready for a job.
Reports: State-specific Mandate Report
New, customizable Mandate reports are here, making it easy to track and report on mandate compliance. This report will save time by eliminating the need to export and manually manipulate data. It also provides visibility into how Xello lessons meet specific state requirements and can help increase student lesson completion by giving you the ability to track student progress throughout the year. Speak to your Success Manager to learn more!
Smaller Changes That Help Ensure Program Success
While we're proud of the larger launches listed above, we've also worked hard on small but mighty changes to make your Xello experience even better.
User Experience (UI) Improvements: From horizontal scrolling for tables to Course Planner tool tips, you may have noticed little ways we've been making your Xello experience quicker and easier to navigate. But have you noticed that all three Matchmaker assessments have a simplified design? Now, they're easier to read and more enjoyable to use!
Transcript Visibility: This game-changer update provides previews of student transcripts before you send them off to college. To do this, visit the "Transcripts" page found under the "College Planning" section. Here, you'll see an option to "View Transcript" as well as in all applicable Common App forms.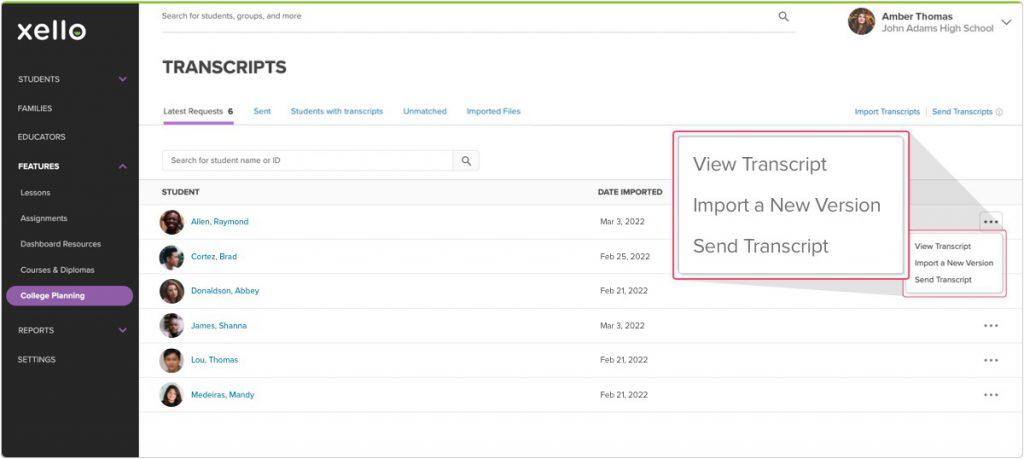 New Career Profiles: Students can explore more options with 100 newly added career profiles that reflect the changes in the job market, particularly in technology and healthcare fields.
Review Student Work from Previous Grades: In just a few clicks, easily view student work from previous grades in Xello. Review artifacts, see evidence of student progress, and demonstrate that standards have been meaningfully addressed at each grade.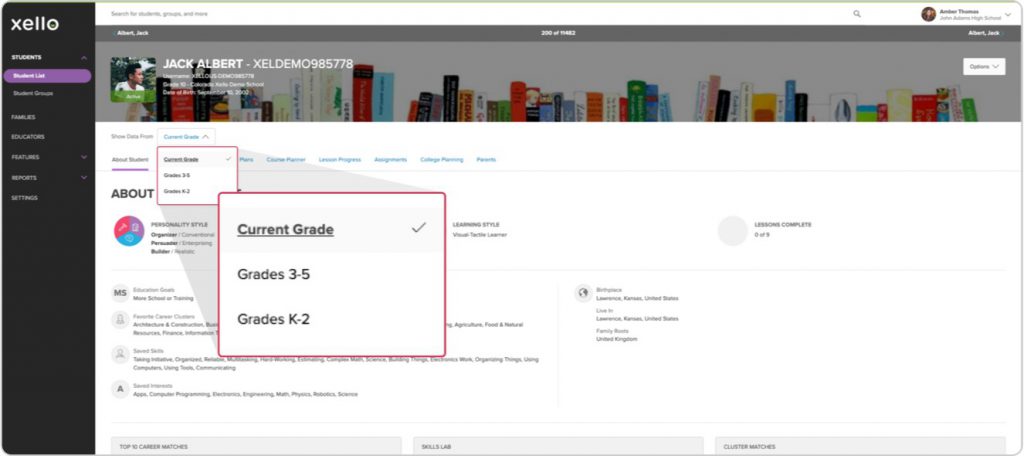 Local Scholarships Toggle: Now, quickly control whether scholarships are visible to your college-bound students with an easy-to-use toggle. The "visible to students" toggle, found under the College Planning section in Xello, lets you hide scholarships that aren't offered on a yearly basis, or work ahead by adding scholarship information before sharing it with students.
New Course Guides: School-specific course guides are now available, helping students and parents focus on the course offerings available at their school only. Administrators and educators can also preview and share links to a given school's course guide. You'll find a school's Course Guide by navigating to the Xello "Features" section and clicking "Courses & Diplomas". Note: For those logged in at a Region with multiple schools, clicking "Preview & Share" will open a page with the option to view the course guide for a single school.
Request WBL Opportunities on Behalf of Students: Have you uncovered the perfect apprenticeship for one of your students? Or, perhaps you organized a career fair and want to record it as a WBL experience for the students that attended? Be sure every WBL experience is captured in Xello with the ability to request opportunities on behalf of your students.
Xello Adoption and Best Practices
Now is the time to reflect on best practices and how to make next year even better. That may look like taking advantage of these updates to further prioritize future readiness in your district.
If you're looking to implement a highly rated CCR curriculum, look no further. We've even created a Xello Launch Toolkit to help you every step of the way, including providing a CCR Timeline to help track its implementation.
If you're already using Xello, we encourage you to dive in further to our support materials, including:
The Road to a Successful 2022-2023 School Year
Our mission is to ensure each and every student has the opportunity to create a successful future. We're confident you agree with that statement.
Adopting CCR programs helps students, but it also greatly benefits districts by unifying educators behind a common purpose, creating connections between school and home, and investing in your community's future economy.
As you finish out this school year, we encourage you to book time with your Xello Success Manager to look at recapping what you achieved this year, celebrating your milestones, and putting you on a path over the summer to double down on your successes.
Considering your goals for next year's CCR programming, what can you do to ensure success? We are cheering you and your students on.