Winter 2020: What's Coming Soon to Xello?
Megan Santos
|
December 6, 2019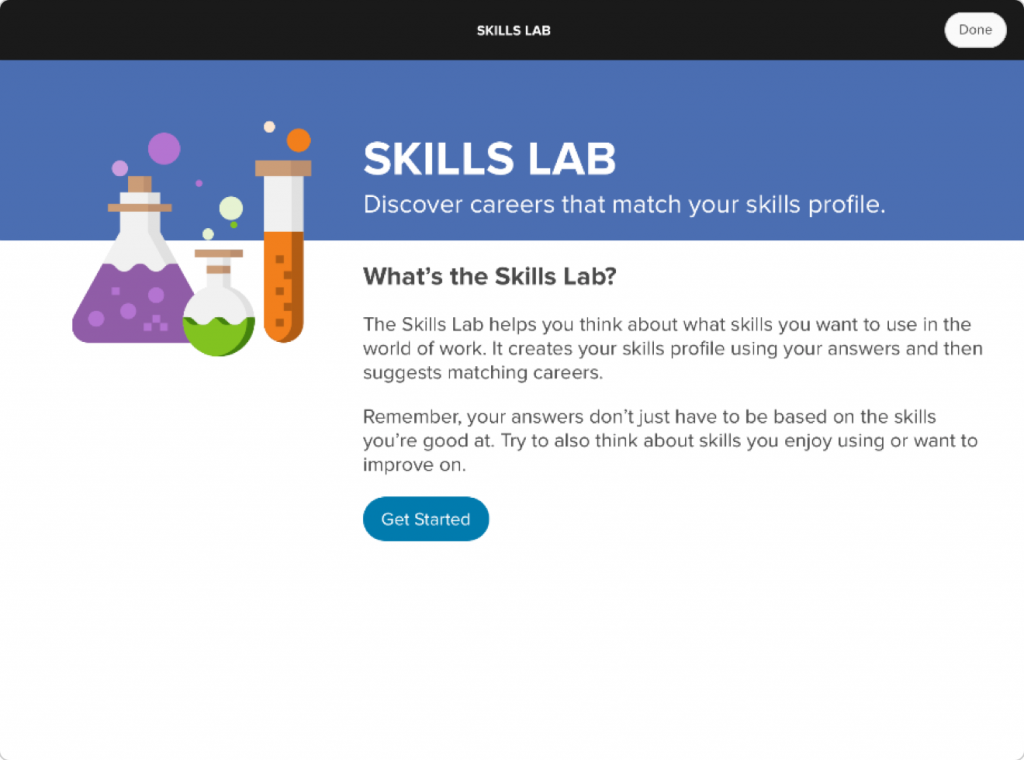 Wondering what we're cooking up at Xello? Here's a taste of the features we'll be launching in the coming months!
2019 may be winding down (where did the time go?), but there's much you can look forward to in Xello in early 2020. From updates to Lessons and Course Planner to an all-new assessment, we're excited to help you and your districts take your college and career planning to the next level in the coming months.
Curious what we've got up our sleeves? Read on!
1. Easily Reset Lesson Progress for Students with a Click of a Button
Did a student start or complete a Lesson in Xello that was shy of expectations? Not to worry—it happens! Soon, educators will be able to reset a student's Lesson and, on the student's side, a banner will appear in the Lesson notifying them of the reset.
Details to Keep in Mind
Lesson Progress Reset is only available in your educator tools
Reset only applies to Lessons—not Custom Lessons
Student answers for a reset Lesson will not be saved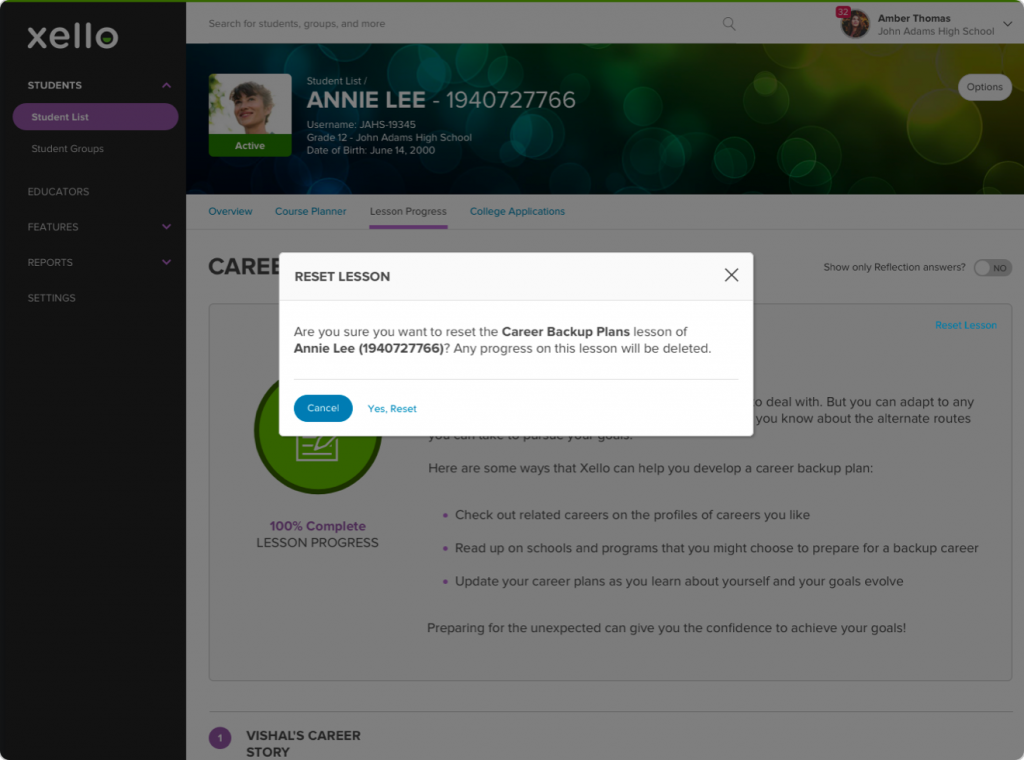 2. Give Your Juniors a Head Start with College Application Tools for Grade 11 Students
'Tis the season to give your juniors an early start on college application planning. To support them, Xello's college applications tools will be available to your Grade 11 students in 2020.
Mirroring the Grade 12 experience, the "Transcript" link on your junior's dashboard will be replaced with the full "College Applications" suite of tools.
Details to Keep in Mind
College application tools is only available in the U.S.
For grade 11 students who already requested transcripts, they'll be prompted to create an application tracker to continue tracking the status of their transcripts.
When tracking an application, juniors will be shown the school and FAFSA deadlines for the current year. If the deadline has passed, it will automatically update to the next academic year's deadline.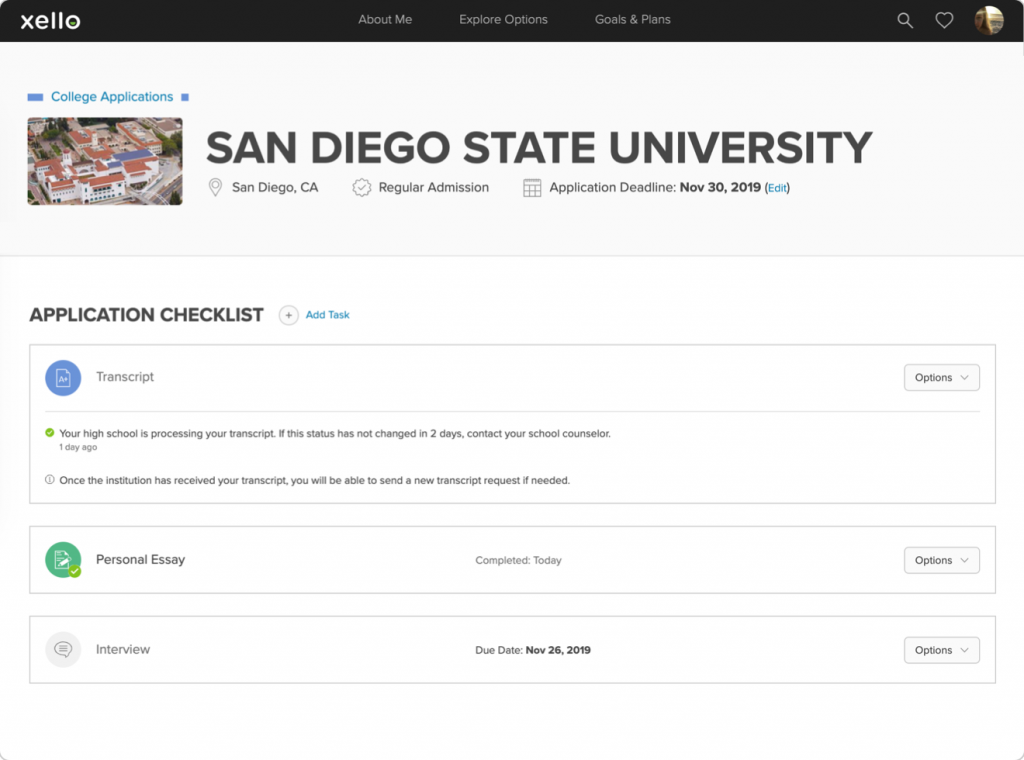 3. Have the Freedom to Select Course Visibility in Course Planner
Soon, educators will have more flexibility over the visibility of courses for students. For schools that offer courses that students cannot self-select, educators will be able to set the course's visibility to "educators only".
Wondering how it will work? A new setting will be added to the Advanced Options section of the Course Profile, with a toggle to set the visibility to educators only, or all.
Details to Keep in Mind
Courses visible only to educators will remain hidden until they are added to a student's course plan by the educator.
4. Allow Overloaded Plans for Students in Course Planner
Even if a student has no Available Periods to add a course, educators will soon be able to override the rules and create overloaded plans.
In Xello, educators will see an Elective pill at the bottom of every planning year, even if there are no Available Periods remaining. But don't worry, you'll be notified every time you attempt to add a course with no periods available. The experience works just the same when adding a course to a Requirement or Year-Independent Requirement. To ensure transparency, both educators and students will receive a notification about the course overload.
Details to Keep in Mind
Only Educators are allowed to create overloaded plans
5. Help Students Match Desired Skills with Careers Using Skills Lab
We're excited to launch a new assessment in Xello called Skills Lab!
Created in collaboration with a team of academics, Skills Lab helps students better understand which careers are most suitable based on how frequently they desire to use certain skills. That way, career matches are further refined, giving students yet another lens to evaluate their future options.
Curious how it works? Students can soon access Skills Lab from either the Dashboard or the About Me section in Xello. Based on the O*Net skill profiles for occupations, students are asked to rate how much they would use 35 workplace skills. Upon completion, students can see their results, explore why, and be able to showcase their Skills Lab results on their shareable profile.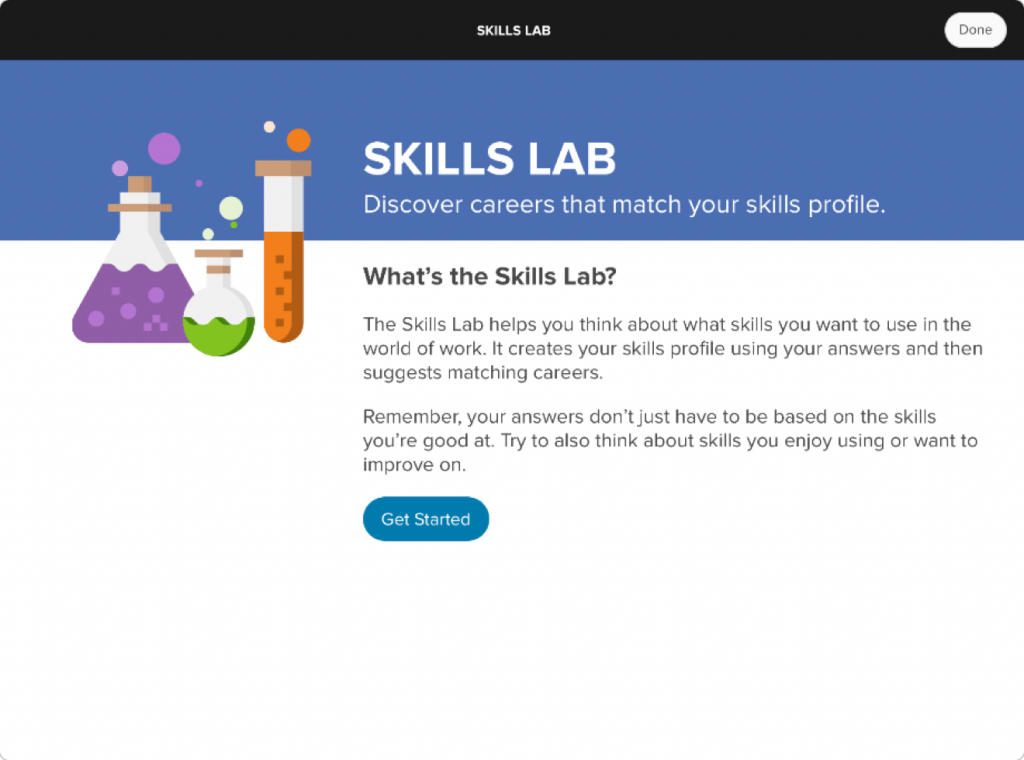 Looking Forward to Helping You Create More Successful Futures in 2020!
A new calendar year means a continuation of your first-half successes, in hopes of closing the school year on a high note. And Xello's got your back through it all. Stay tuned in early 2020 to hear about these new launches and much more!