Introducing Xello News: Keeping Educators In-the-Know with Every Login
Lynda Byrne
|
February 19, 2020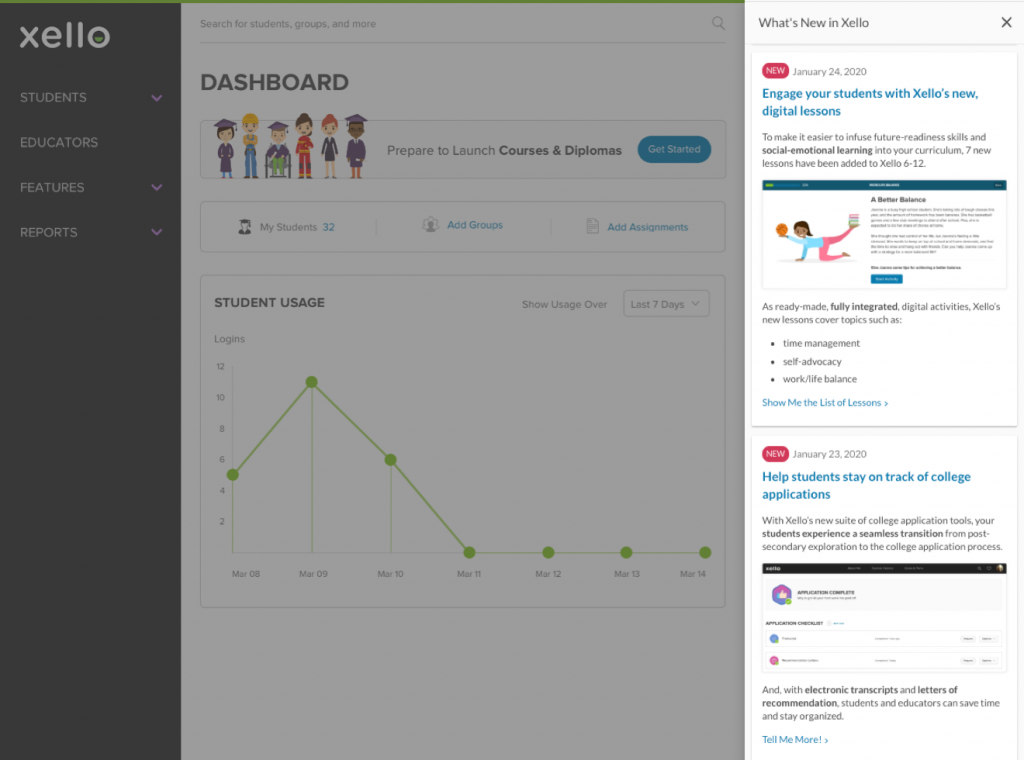 Xello recently launched a news channel right inside the application to keep educators and counselors updated on the latest product enhancements and training opportunities. Curious about this fun, new news channel? Read on.
In today's classrooms, educators are constantly learning and implementing new technology solutions that support student learning and classroom management. From Google classroom for assignments, to future‑readiness software (like Xello!) for college and career planning – there are plenty of great tools being used to support educators and their students
But, with all these programs in an educator's tool-kit, how do you stay up-to-date on all the changes and updates?
Helping You Become the Xello expert
To help keep you informed on any changes to the Xello experience and to notify you of training opportunities, your educator account now includes Xello News—a news feed found directly inside your account.
Xello News is a non-interruptive, quick way to get a recap of product updates or new features, regardless of how long it's been since your last login. Unlike email and other channels, Xello News is right at your fingertips when you're already engaged with Xello.
Since posts are short, digestible, and easily scannable, you can quickly scroll through the news before carrying on with your tasks in Xello. If you are interested in a particular update or new features, you can always click through to the related article of the posts. And, Xello News is always accessible from your account if you want to come back to the posts later.
Updates and Feature News from Right Inside Xello Educator Accounts
Staying on top of Xello updates is now a seamless experience.
When the Xello Team has posted an announcement to Xello News since your last account login, you will see a "What's New?" icon on your dashboard.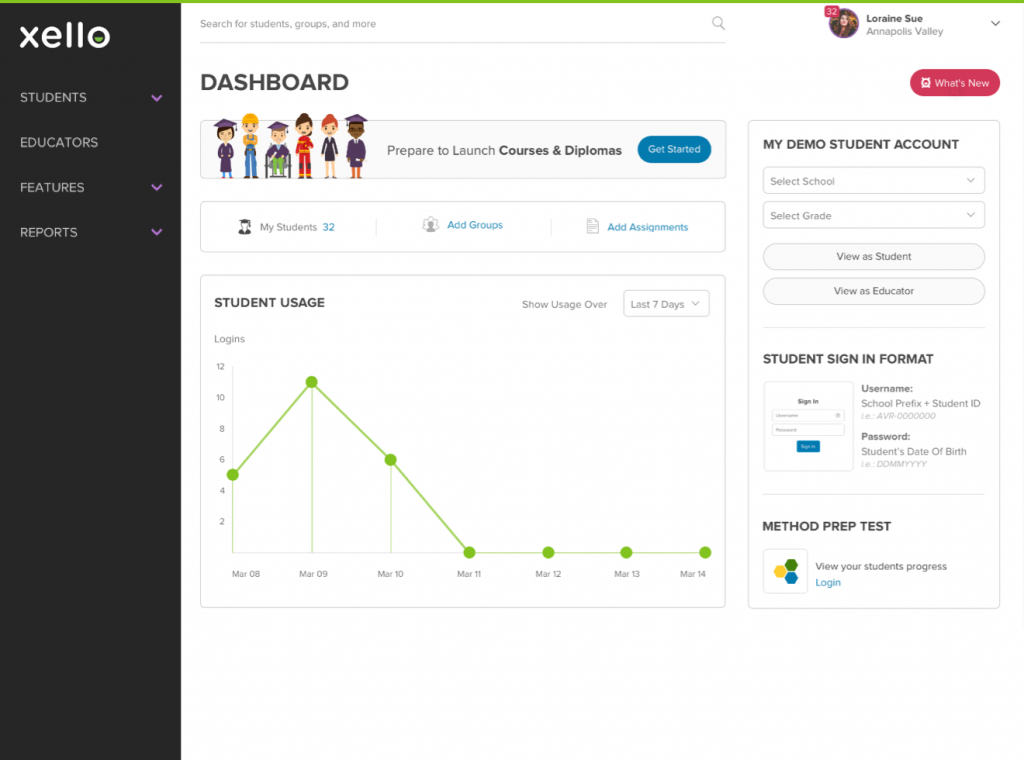 When you click on the "What's New?" icon, your Xello News panel slides open on the ride side of your screen, where you'll see the most recent announcements at the top. To get up-to-speed on news, just scroll down the panel to read the quick announcements. If there's an update you would like to learn more about, simply click through to the blog post or support article to learn more.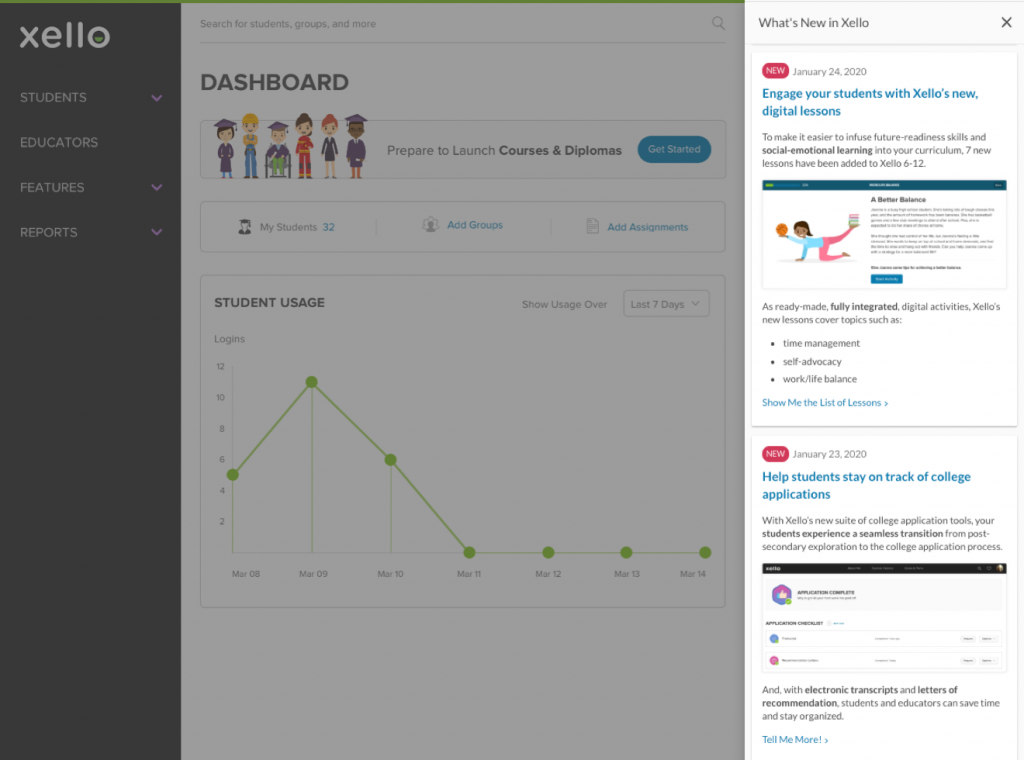 When you close the Xello News panel, you'll see that the "What's New?" icon disappears from your dashboard. This icon won't appear again until there are new announcements to share with you. If you want to access older Xello News posts, you can always get to Xello News from the drop down menu by your name.
To open Xello News without the "What's New?" icon, users can access Xello News from their drop down menu.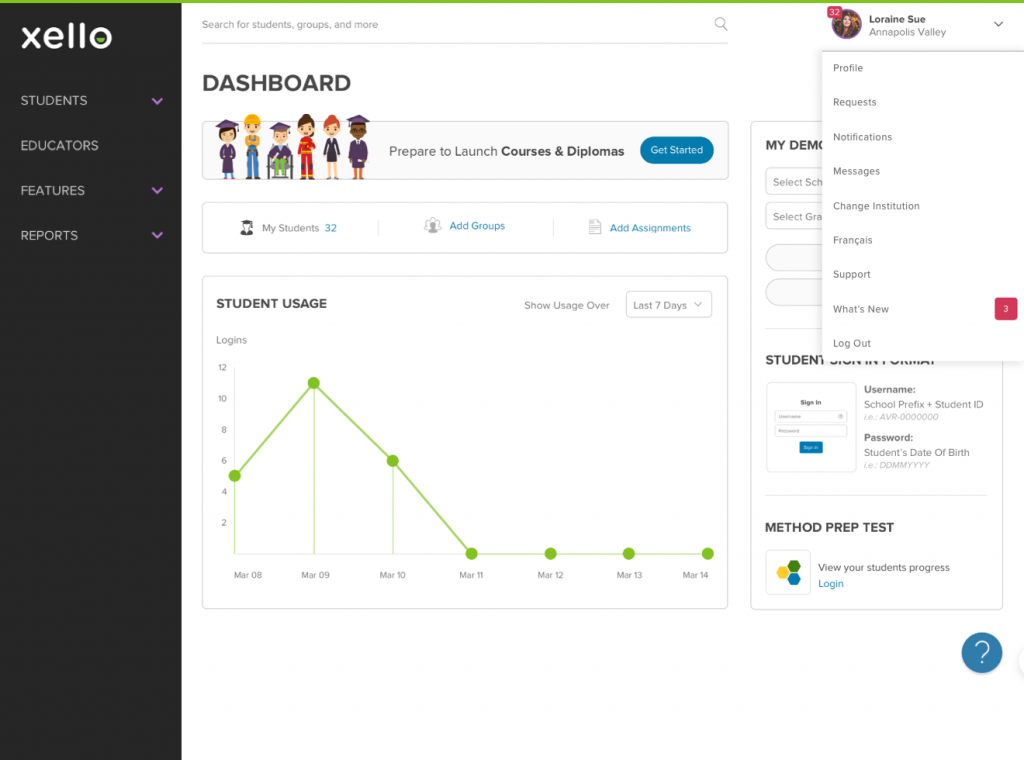 How to Get Started with Xello News
It's really easy to get started! Simply click on the Xello News icon when it appears on your educator account dashboard and dive in to learn more about recent updates in Xello.
If you have any questions about Xello News, feel free to contact us at help@xello.world.