Your Guide to Meeting Kentucky's ILP Requirements and How Xello Can Help
Larry Bernstein
|
November 27, 2020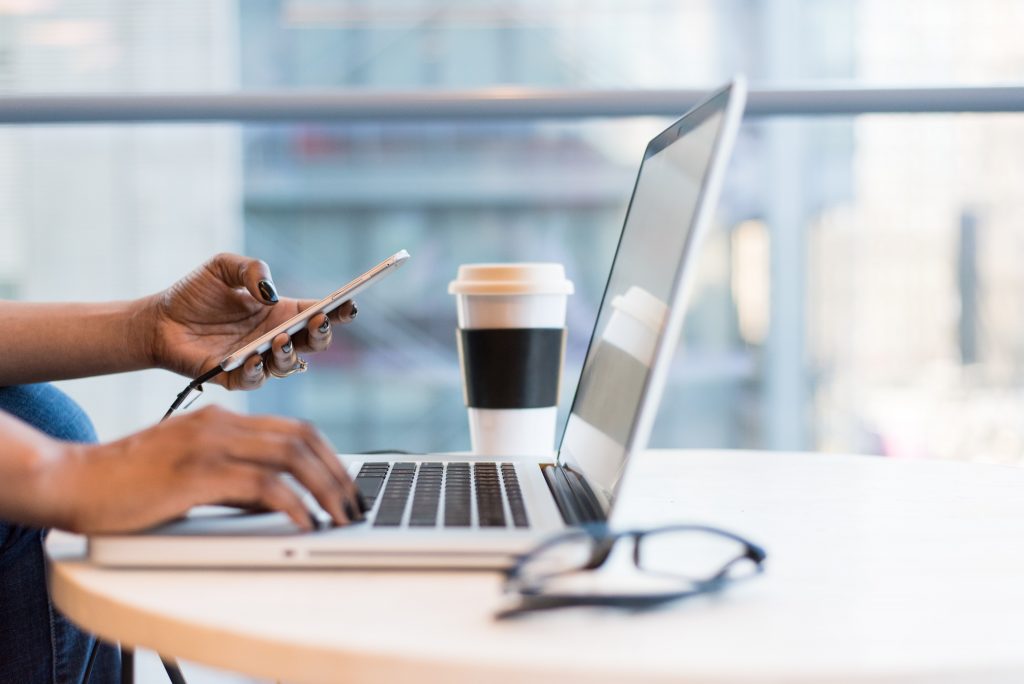 Learn everything you need to know about the Kentucky ILP, what the requirements are for your students to meet these standards and other essential information to set your students up for success.
Are you wondering what the Kentucky ILP is and how you can best implement and utilize the ILP structure to set your students and your school district up for success?
If yes, then this blog will help you answer these questions.
Today, there are 43 states that either mandate or use an Individualized Learning Plan (ILP). One such state is Kentucky.
The Kentucky ILP was put in place in 2002. The graduating class of 2013 was the first to have completed ILPs from 6th grade onwards.
According to the Kentucky Department of Education, "The Individual Learning Plans or ILPs for Kentucky's 6th grade through 12th grade students are changing how students prepare themselves for their future."
Despite the fact that ILPs are widespread, each state has its own spin on the educational tool. Let's take an in-depth look at the Kentucky ILP.
What is the Kentucky ILP?
While the requirements for an ILP are not uniform across states, they share some commonalities.
An ILP essentially aims to get students to define their career goals and use these to determine what classes and activities they should pursue in school to set them up for future success. Students can get guidance from school personnel and family when identifying their goals and interests.
According to Kentucky's Department of Education, "Individual learning plan (ILP) means a comprehensive framework for advising students in grades six (6) through twelve (12) to engage in coursework and activities that will best prepare them to both realize college and career success and become contributing members of their communities."
Kentucky's ILP program aims to provide students with information about possible career options, helping them connect their personal interests, passions and skills with future job opportunities and various educational pathways.
Career exploration is an extremely important objective for Kentucky's students in grades 5-8.
Kentucky is also one of the first states in the U.S. to combine career exploration with social emotional learning (SEL).
According to the Individual Learning Playbook (ILP) provided by Kentucky's Department of Education, "The 16 Kentucky Career Clusters are promoted for use in career exploration and are tied to career and technical education pathways in Kentucky. Incorporating career clusters into curricula in grades 5-8 empowers student decision-making for pathway selection(s), alignments and transition to high school."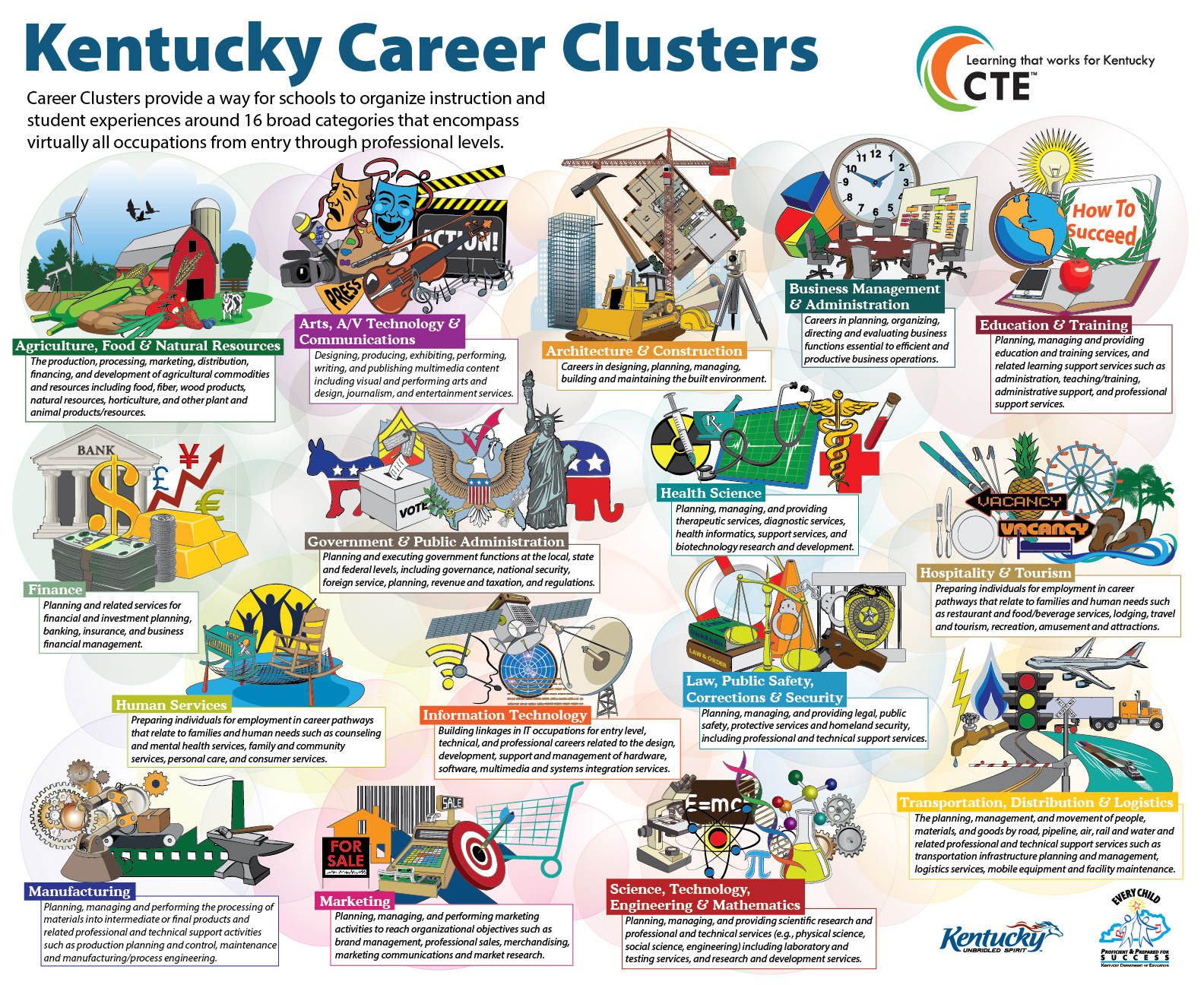 Image Source: Kentucky Career Clusters by Kentucky's Department of Education
How is the Kentucky ILP Structured?
In the 5th grade, Kentucky students begin the process of discovering more about themselves and how to interact with others as they explore ways to get involved and learn more about their future dreams, goals and aspirations.
5th grade is meant to prepare students to get acquainted and comfortable with discovering more about themselves because the Kentucky ILP program is specifically geared towards students in grades 6-12.
Starting from 6th grade, students are required to complete an ILP.
The overarching goals include:
Career exploration

Developing educational plans

Creating personal goals that are revisited as students' progress through school

Developing a resume

Tracking various experiences (work, community service, extra curriculars, career planning activities)

Exploring relevant postsecondary opportunities including college, and tracking personal information and educational history.
Who is involved in the Kentucky ILP?
Studies have shown that parental/guardian involvement is a significant asset to a student's education. Regardless of income or background, students whose families are engaged in their education find greater academic success and behave better while in school.
Based on this belief, the Kentucky ILP involves both students and their parents/guardians.
Each of them has a separate ILP view, which keeps relevant information organized, making it easy for parents and students to get a snapshot view of student plans and goals. 
What can students do with the ILP tool?
Record their career, education, and life goals.

Bookmark careers and schools that are of interest to them and include their thoughts about each.

Explore the Kentucky Career Clusters and track the clusters that interest them.

Store their results from standardized tests and assessments, including Career Matchmaker.

Keep track of their career and educational exploration activities.

Record their extracurricular activities, hobbies, and interests.

Document their community services and work experience.

Develop their four-year high school education plan.

List awards and recognitions they have received.

Document learning services and programs they have participated in.

Upload related files, such as essays, scanned artwork, and letters of reference.

Create a personalized, professional-look.
What can parents do with the ILP tool?
View the work your child has entered in his or her ILP.

Learn more about the careers and schools that are of interest to your child.

Record your thoughts and comments about your child's learning plan. Email your comments to your child's advisors.
What tools can help me manage the Kentucky ILP?
If you're looking for a solution that immerses students in career exploration and planning and engages them with every aspect of the Kentucky ILP, then look no further than Xello.
Xello is a company that produces online programs for K-12 students. With engaging, modern software, we enable students to complete the work necessary to meet Kentucky's ILP requirements.
Xello's engaging, modern software includes assessments for middle and high school students to help them build self-knowledge and explore potential career and college options that align with their assessment results.
With Xello's interactive planning tools, Kentucky students can take their newfound knowledge and turn it into an actionable personalized roadmap and create a clear path to their future goals.
We also know how important it is for the state of Kentucky to ensure that students' career exploration activities are combined with social emotional learning.
Taking the importance of social-emotional learning into account, Xello's four-step model helps ensure students complete the work to meet the requirements of the Kentucky ILP, and the student Mindset and Behavior Standards outlined by ASCA.
This is what our four-step model entails:
Build self-knowledge:

 

Students define their interests, skills, preferences and aspirations so they can explore the opportunities right for them.
Explore Options:

 

Students learn about career possibilities and educational pathways by exploring rich engaging content and lessons.
Create a Plan: Students create dynamic actionable plans that outline the steps needed to achieve school, career and life goals.
Learn & Reassess:

 

As students gain experience, knowledge, and skills, they can reassess and change their plans for the future.
If you're interested in learning more about how Xello can help your students meet Kentucky's ILP requirements, you can get in touch with us here.
Additional Resources on the Kentucky ILP
Individual Learning Plan (ILP) Playbook for Grades 5-8
Information on Kentucky's Individual Learning Plan by the Kentucky Department of Education
Kentucky Individual Learning Plan Guidance Document
ASCA Mindsets & Behaviors and Xello
Conclusion
Whichever tool you decide to use to help students meet Kentucky's ILP requirements, it's important to ensure they are immersed and invested in the process.
Do you have questions about how your district can help students with Kentucky's ILP? Just click on the link below to book a call with our education consultants and they'll be happy to assist.