Accessibility in the Classroom: Are EdTech Companies Doing Enough?
Heather Hudson
|
May 12, 2023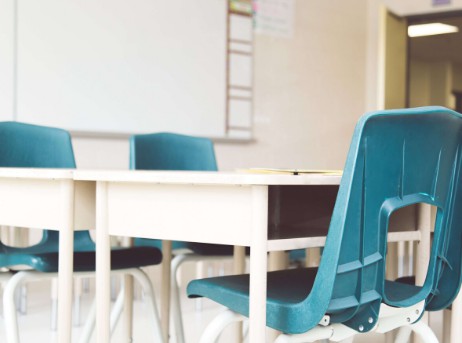 Not all EdTech programs are created equal when it comes to delivering accessibility in the classroom. Find out what to look for in the programs you need to serve all students, of all abilities.
One would believe the goal of EdTech programs is to provide value to all students, of all abilities. However, truly accessible technology is less common than educators may think, according to Te Thebeau, VP of Product Experience at Xello. 
"I find research and accessibility are often talked about but are ultimately viewed as 'nice to haves' with little to no funding or traction. Other times, they're simply non-existent. Perhaps due to lack of expertise, cost, or some other perceived barriers," he says. 
Thebeau believes educators need to be more aware of accessibility standards so they can properly assess whether the EdTech programs they're evaluating are truly serving all of their students. 
And he doesn't just talk about the importance of accessibility technology, he lives it. Thebeau suffers from profound hearing loss incurred during a diving accident years ago. As a result, he reads lips to assist his hearing and often watches movies with closed captioning. His direct experience is one of the reasons he's passionate about designing EdTech that accommodates learners of all abilities. He brings this sensibility to his work at Xello.
The Effect of Accessible EdTech
"Because everyone benefits from an accessible experience, we don't view accessibility as an 'add on' or a 'check the box' item at Xello. We want to remove the barriers of technology so all students can focus on creating a successful future for themselves and this is an important commitment for us," he said.
When it comes to living with a disability, Thebeau has a lot of company. More than 1 in 10 youth in Canada have one or more disabilities. And in the U.S., there are more hard-of-hearing internet users than the entire population of Spain (based on data from the World Bank, WDI, 2008), and more blind and low-vision users than the entire population of Canada (NHI Survey, 2008).
Generation Z are the first digital natives in classrooms and expect to be able to interact with programs that accommodate all abilities. It's critical for technology to provide a high standard of operability and accessibility for everyone.
"For us it's all about inclusion and equitable access to knowledge and opportunities, regardless of one's abilities. This really makes sense when you consider that about 20 per cent of the population of the U.S. lives with some form of disability," says Thebeau.
He spearheads a team of talented designers, researchers, and content writers at Xello to deliver a well-rounded product experience. 
"The core of what we're trying to accomplish is to create human-centered experiences built on human insights and data, not best guesses. The latter still tends to dominate the way many companies think about solving [accessibility] problems in EdTech," he says. 
What to Look for in EdTech Accessibility in the Classroom
With his first-hand experience and expertise with an EdTech product, Thebeau is an ideal person to offer insight into what educators should be looking for to ensure the technology they invest in is genuinely accessible to all students.
He recommends EdTech programs that adhere to these standards: 
Designed and developed to be compatible with:

Color contrast and font sizes should meet the standards described in WCAG 2.0 Level AA

Captioning for audio and visual content

Full keyboard accessibility

Use of

ARIA-live regions

for screen readers

Ensure links are provided to skip navigation that appears on every page

Font sizes are made as large as possible

No hover effects are used with equivalent click actions

Drag and drop components have keyboard alternatives

Images don't contain instructional or informational text

Color alone is never used to convey information

Focus indicators are maintained throughout the site

Forms include explicit labels and placeholder text is minimized

Table columns and rows use proper markup

Simple navigation to reduce cognitive load

Appropriate reading levels

Links use descriptive text, e.g. not "click here"
"We're just scratching the surface of how amazing truly accessible products can be. Continuous improvement should be the goal when it comes to accessibility," says Thebeau.
While you're assessing the accessibility functions of an EdTech program, he suggests considering another feature that is often linked: Inclusion. 
"At Xello, we go to painstaking lengths to ensure gender stereotypes are challenged and visible minorities are represented, which in my book walks hand-in-hand with accessibility. In my mind, this should be the standard for all EdTech programs used in classrooms."
When assessing a program's offerings, it's important to learn about the company's commitment to accessibility and the processes they use to achieve it. At Xello, it's integrated into the product from the earliest stages. 
"It's baked into all content, design, and engineering processes. We also have a community of practice around accessibility and offer ongoing training for employees, so we're always learning, sharing, and improving," says Thebeau.
Another consideration is what kind of testing or validation takes place to ensure accessibility in an EdTech product. 
"We have a fairly stringent 'Definition of Done' which helps us ensure a number of factors are checked, tested, and verified as shippable. These include multiple checkpoints for accessibility in content, design, and engineering," he says.
Other programs may have different processes, but the important thing is to ensure there is a rigorous system that helps ensure accessibility is constantly considered.
When it comes to investing in new technology, accessibility should be top-of-mind. As Thebeau says, "We all accept that schools, or any public building for that matter, should be built with appropriate accessibility features such as ramps, automatic doors, elevators, etc., for good reason. So, shouldn't the software running in that same environment meet similar, contextually relevant accessibility standards?"
We think so.