5 Ways EdTech Supports Senior Students Through the College Application Process
Heather Hudson
|
October 17, 2019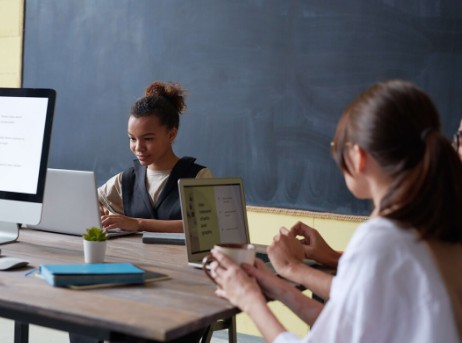 It's crunch time for most seniors looking ahead to their college years. School districts across the country are poised to support their students as they work their way through the college application process.
During this 'season of stress', college-bound students depend on their educators to guide them as they review their requirements and submit all the elements on time. But with sky-high student-counsellor ratios and few resources to provide meaningful individual guidance, many seniors struggle to keep track of what information goes where and by when. 
That's why many districts are turning to their future readiness tool for help guiding and supporting students through the college applications process. Better than a simple checklist, the right online tool will ensure students understand what's required, keep track of their progress, and ensure nothing gets missed. 
Here's how you can support the college applications process with EdTech—and streamline the administrative work behind it.
Narrow Down the List of Colleges
If your students have been using a future readiness tool, they will already have a custom profile. This is where they've been exploring careers and colleges, taking personality and aptitude tests and making a record of their interests, dreams, and goals. (Some of them might have been doing this since elementary school!)
Matching their goals with the right college shouldn't be an onerous process since they've probably determined at least a couple of possibilities, including post-secondary pathways. A good future readiness tool will direct student users to the colleges that offer the program they're interested in.
Track Requirements and Deadlines
With their schools of choice narrowed down, students must discover the application requirements for each one. EdTech can help. For example, Xello automatically populates a list of application requirements by school, showing students exactly what needs to be submitted for each one. But where does that information go—and how can educators be sure their students are staying on track?
A good future readiness tool will also provide a digital college application tracking tool. Students can create a profile for each school to which they're applying. They may enter the application deadlines for at-a-glance access and use a pre-populated checklist for items like:
Transcript

Recommendation letters

Personal essay

Interview

ACT/SAT exam score
Students can track which components they have completed and see which are left to do.
Request Recommendation Letters
An important part of the college applications process is asking for and organizing recommendation letters. Educators generally assign their students to craft an effective, personalized request. But what does that look like? Some future readiness programs offer helpful tips on creating a compelling and respectful letter that is impossible to ignore or put off!
For example, in Xello's college application tracker, students are advised that, "A recommendation letter should tell a story about who you are as a person. When asking someone to write a recommendation letter for you, it's important to highlight any achievements or qualities you would like included. You should also personalize each request, so your referrer knows why you chose them." Students also have access to a series of writing prompts to help them get started.
When they're ready to go, seniors can request letters of recommendation right inside the tool. Referrers will be notified by email—they'll be able to see the student's personal note, plus the request deadline and can securely upload their letter of recommendation. After referrers upload their letter of recommendation, it's sent directly to the college. Both educators and their students can easily monitor and track the progress of these requests.
Submit Transcripts
Organizing transcripts and sending them to the right person at the right time is an onerous part of the college application process. Some future readiness tools provide a centralized system to receive, request, and securely deliver electronic transcripts, keeping everything organized and visible. 
Some have even created features that take care of the transfers online by allowing students to automatically request that their transcript is sent to the institution of their choice. An educator with administrative access to the tool will receive the request in their account and be able to send the transcript on the student's behalf.
This process allows students to get in the driver's seat of submitting their applications. By taking the lead on where a transcript needs to go and by when, they're exercising valuable autonomy skills that will help prepare them for the transition ahead. And educators can do their job without constant follow-up from students.
Review Applications with Others
It's always a good idea for seniors to run their application essays, letters of recommendations, and other elements by a trusted educator, peer, or parent to make sure they've covered everything required. In addition to proofreaders, students need cheerleaders to help them keep going through the long and arduous college application process.
Your trusty program makes it easy for students to share where things at home, school, or with friends. With 24/7 access to their digital profile, youth can answer their parents' questions by showing them their progress in real-time, consult with educators or counselors, and share information and inspiration with their peers.
The College Application Process: What's in it for Educators?
Tracking the college application process with a future readiness tool isn't just good for students. It's great for educators and counselors. Not only is a lot of administrative work streamlined by allowing students to track and manage their own application requirements, data is available that allows schools to plan more effectively.
For example, using Xello's suite of college application tools, educators can easily view the schools that their seniors are applying to and get an inside look at college application trends at their school, which helps inform planning for future college information sessions and visits.
They can also take reporting to an even deeper level by viewing and monitoring each student's application progress. This knowledge allows counselors to have more meaningful 1:1 discussions to keep each and every student accountable for their post-secondary planning.
The automated transcripts function provides built-in tracking that ensures students are informed of the status of their transcripts, keeping administrators free from questions and concerns from students.
The college application process doesn't have to be a tedious source of stress for students and educators alike. With the right technology, it can be managed seamlessly.