Create Authentic Connections Between Students and Colleges with Xello for Higher Education
Larry Bernstein
|
September 20, 2023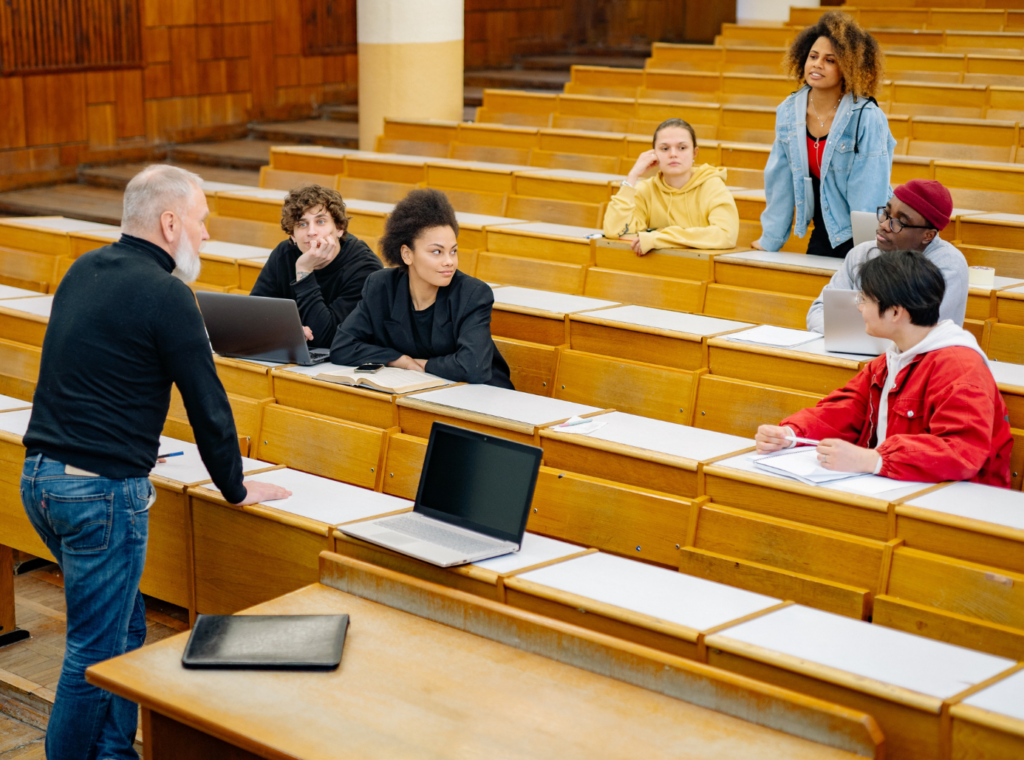 Xello is excited to push beyond the K–12 market with the launch of Xello for Higher Education—a platform for colleges to create authentic connections and engage prospective students in their community.
It's the only pre-inquiry marketing platform that enables colleges to connect with prospective students early and create a sense of community before an inquiry is made.
Why is pre-inquiry marketing necessary for college recruitment?
Declining Pool
Everyone in college enrollment is keenly aware that college enrollment is down. College enrollment peaked in 2010. The decline was particularly noticeable between 2020-2022 due to the pandemic.
Despite the pandemic being in the rear-view mirror, enrollment continues to decline, albeit at a slower rate. Inside HigherEd cites a report from the National Student Clearinghouse Research Center that confirms the continued decline. The site adds about the most recent drop, "…when compounded by two years of steep declines during the COVID-19 pandemic, hopes for a full or even partial recovery seem out of reach for most institutions."
Add this to the results of a spring 2023 survey from the Wall Street Journal. An article about the survey notes that 56% of survey respondents (up from 40% in 2013 and 47% in 2017) think college is not worth the cost. The people most skeptical are between the ages of 18 and 34 and those with college degrees.
Changing recruitment techniques
Young people's attitudes have changed. The way colleges recruit must also change if they hope to engage and entice the students of today. Staying on the same path is a recipe for failure (and an indication of insanity, according to Einstein). "Colleges can no longer simply advertise and expect to see spikes in enrollment," said Matt McQuillen, CEO and Co-Founder of Xello.
Being passive, i.e., waiting for students to find a school – no matter how great the website – is not a recipe for success. Many people are leery of sharing their contact information to get gated materials. So, even if students go on the website, maintaining contact with them is challenging.
Having active and engaging social media channels is useful and appeals to young people. However, the onus is on students to engage and seek out a school's channels. It's difficult to regularly reach students when they have a million and one options for their online attention.
Something can be learned from the social media habits of young people. They appreciate the community social media can create and enjoy making connections.
The key to reaching people in Gen Z is being authentic. From the workplace to social media and everywhere in between, Gen Z has made it clear they crave authenticity. Therefore, the question colleges need to answer to recruit students is how to reach them authentically and meaningfully.
Schools that create authentic connections early and address the need to build strong communities are positioned to counter the drop in undergrad enrollment. Xello for Higher Education can help.
"By partnering with Xello for Higher Education, colleges can create a strong foundation for long-term enrollment success by building a unique community with prospective students," said Alan Liebrecht, Vice President of Enrollment, Marketing, and Communications at Texas Wesleyan University, and a member of Xello's Higher Education Council.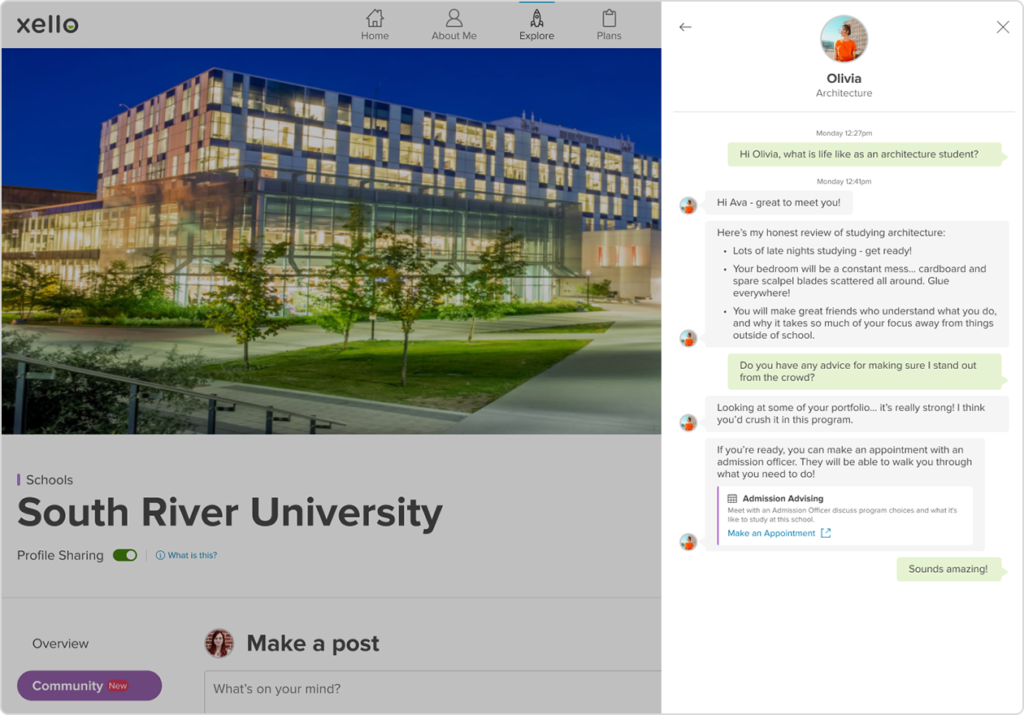 Form an authentic community with Xello for Higher Education
Now that the need to reach potential students authentically and develop communities is clear, the challenge becomes how to do so.
Xello is the answer. More than one million students are already exploring college and career options on our award-winning platform. Therefore, Xello is a natural place for colleges to have a presence and start to engage with students as early as ninth grade.
Xello for Higher Education helps you reach those students and develop a community. Here's how:
Student access and management
Maintain Personal Information: Students can access Xello's College Communities without sharing their data with each college individually.
Save Favorite Colleges: Students can save their favorite schools and actively engage with communities, fostering meaningful interactions and enhancing their understanding of the institutions they are interested in exploring.
Badges: Verified Badges provide transparency and authenticity. Blue checkmark badges will be added to college profiles that indicate when a community has been claimed by a college. This verification badge helps prospective students easily identify and trust the official presence of colleges within the platform.
Management Provides Access: Once a community manager is in place, they can add any user they'd like to communicate with prospective students. Schools can curate a diverse team of individuals to engage with prospective students.
User-friendly interface: The easy-to-use interface makes it easy to effortlessly engage with prospective students in your community. Available tools enable you to like, comment, or provide valuable insights on community member's posts.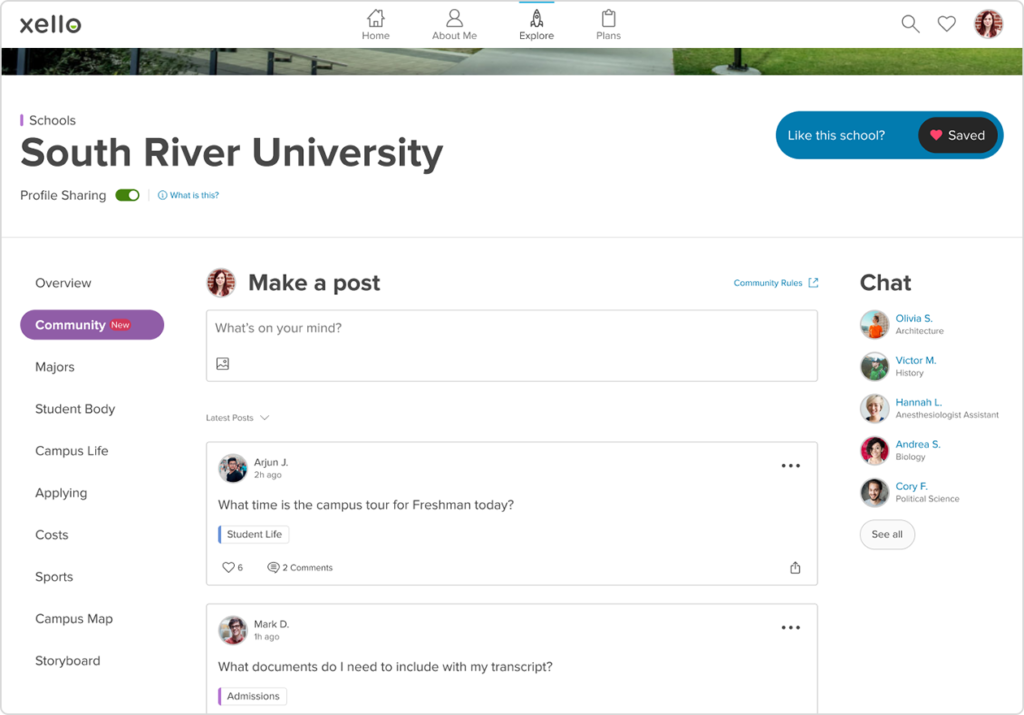 Maintain decorum
Community Guidelines: All users must accept and abide by community guidelines to participate in a community. This ensures that all users understand the types of content that are and are not allowed in college communities.
Flagging System: And when users do something out of bounds? All users can flag inappropriate content they come across within the community. Therefore, the community can contribute to maintaining a positive environment.
Automatic Content Hiding: Once content is flagged, our system automatically hides it from view until it undergoes review and approval. This ensures that potentially harmful or inappropriate content gets addressed quickly, minimizing its impact on the community.
Primary Moderator Review: College staff and ambassadors serve as the primary moderators, and they have the authority to review flagged content and make decisions regarding its approval or removal.
Foster community and communication (Coming soon!)
View Detailed User Profiles: Prospective students can get to know the individuals with whom they are communicating via user profiles that provide insights into a community manager's background, experiences, and interests. This personalized information helps prospective students identify community managers they can resonate with, strengthening the connection and engagement within your community.
Private Conversations: Through 1-on-1 chat, prospective students can ask questions, seek advice, and gain valuable insights directly from student ambassadors and college representatives. This personalized interaction strengthens the sense of community and helps students make informed decisions about their educational journey.
Track results
Access to Reports: Receive reports that provide a high-level look at student activity in your community, enabling you to understand engagement levels and trends among your student population. By gaining insights into key metrics, you can make informed decisions to identify best-fit students, enhance student experiences with relevant content, and foster a thriving community where authentic connections can be made.
Student Numbers: Reports include the number of students in the community and the number of new students in the community.
Active Students: Other reports help gauge student activity. These include interactions per student and most active students. Leverage this information to recognize and engage with your most enthusiastic and involved students.
Fill Out Reports: Xello profiles are easily shared, along with community interaction data and exported into an Excel spreadsheet or CSV document. This simplifies the process of integrating student data with your CRM.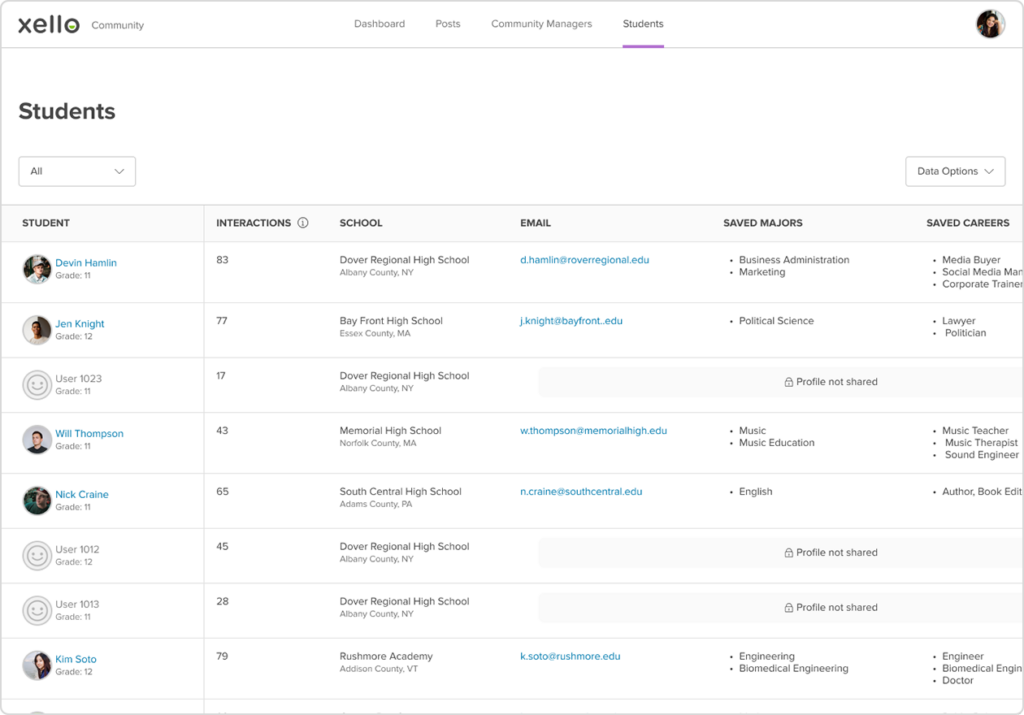 Work with Xello
Enrollments are declining and student/family expectations are changing in terms of what they want from a college. Recruiters need to adapt, and Xello for Higher Education can help.
The pre-inquiry marketing platform enables colleges to connect with prospective students early through peer-to-peer and community-based conversations. This leads to the creation of authentic connections and will ultimately help your school break from traditional recruitment practices that no longer operate as well as they used to.
Want to sign up and give your school access to over a million students? Claim your free community and sign up for the waiting list.