Your Guide to College & Career Readiness During Times of Uncertainty
Heather Hudson
|
January 17, 2022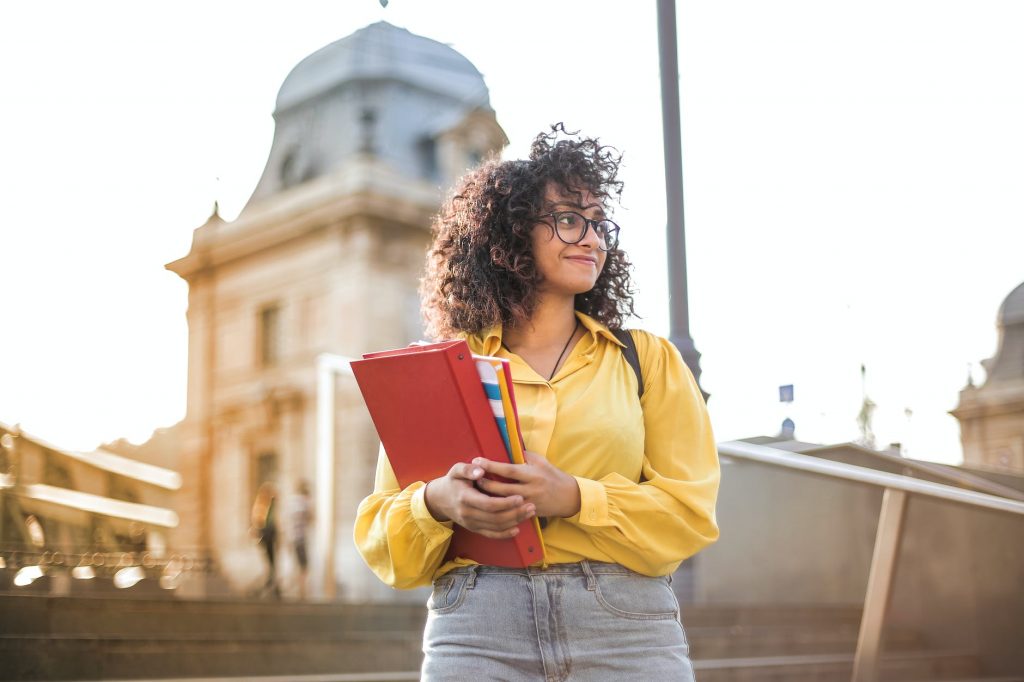 College and career readiness doesn't have to be put on hold just because some students are learning remotely. In fact, now might be an ideal time for them to reflect, explore and make plans for their future.
We've all learned what happens when the world slows down to manage a pandemic. Worry and fear creep into our daily lives. But so does ingenuity, agility and the capacity to pivot in new and exciting directions in response to changing circumstances. Educators and counselors will recognize these experiences as similar to the ones that crop up during the college and career readiness process. 
As many juniors and seniors near the end of high school, they "future cram" by hastily considering college majors, post-secondary training and careers. Instead of executing a plan they began to put in motion from their earliest days as a student, they enter into panic mode and hope for the best.
It doesn't need to be this way. And, in many districts it isn't, thanks to robust college and career readiness programs that begin as early as elementary school and progress through middle and high school. Even during this uncertain time, districts that have implemented career planning software are able to provide uninterrupted college and career readiness programming for their students—remotely.  
For example, Xello users can log in from home to continue social-emotional learning lessons and explore careers, colleges and post-secondary training. Many counselors have made screencast videos walking students through the process of completing various activities in Xello. 
They're also connecting with individual students via Google Classroom or Zoom to do course planning and other future readiness programming.
While we wait, watch, learn and plan for the future, many district leads, educators and counselors are exploring college and career readiness possibilities. They're asking:
What is college and career readiness?

How do we measure college and career readiness? What do assessments look like?

How do online future readiness tools contribute to college and career readiness in elementary, middle and high school?

How can we use career planning software to get students college and career ready—remotely and in times of uncertainty? 
We have the answers. Let's attempt to answer all of these questions. 
What is college and career readiness?
According to the College and Career Readiness and Success (CCRS) Center, 36 states and the District of Columbia have definitions of college and career readiness. While they vary by state, common elements include:
Academic knowledge:

"Nineteen states require some form of academic content knowledge to be considered college and career ready," according to the CCRS Center. English, math and other core subjects are included in the academic qualifications.

Critical thinking and/or problem solving:

Many definitions of

college and career readiness

include the ability to do things like employ effective speaking and active listening; reason, research and analyze to investigate topics; evaluate and apply prior knowledge of content and situations to support comprehension; and distinguish between opinions, interpretations and facts.

Social and emotional learning, collaboration and/or communication:

The ability to express themselves, collaborate with others and apply their knowledge with respect for a diverse society and a commitment to responsible citizenship is part of Delaware's definition.

Grit/resilience/perseverance.

Ohio's definition emphasizes "the acquisition of readiness behaviors such as goal-setting, persistence and resourcefulness." They're not alone in including this quality in their definition of college and career readiness.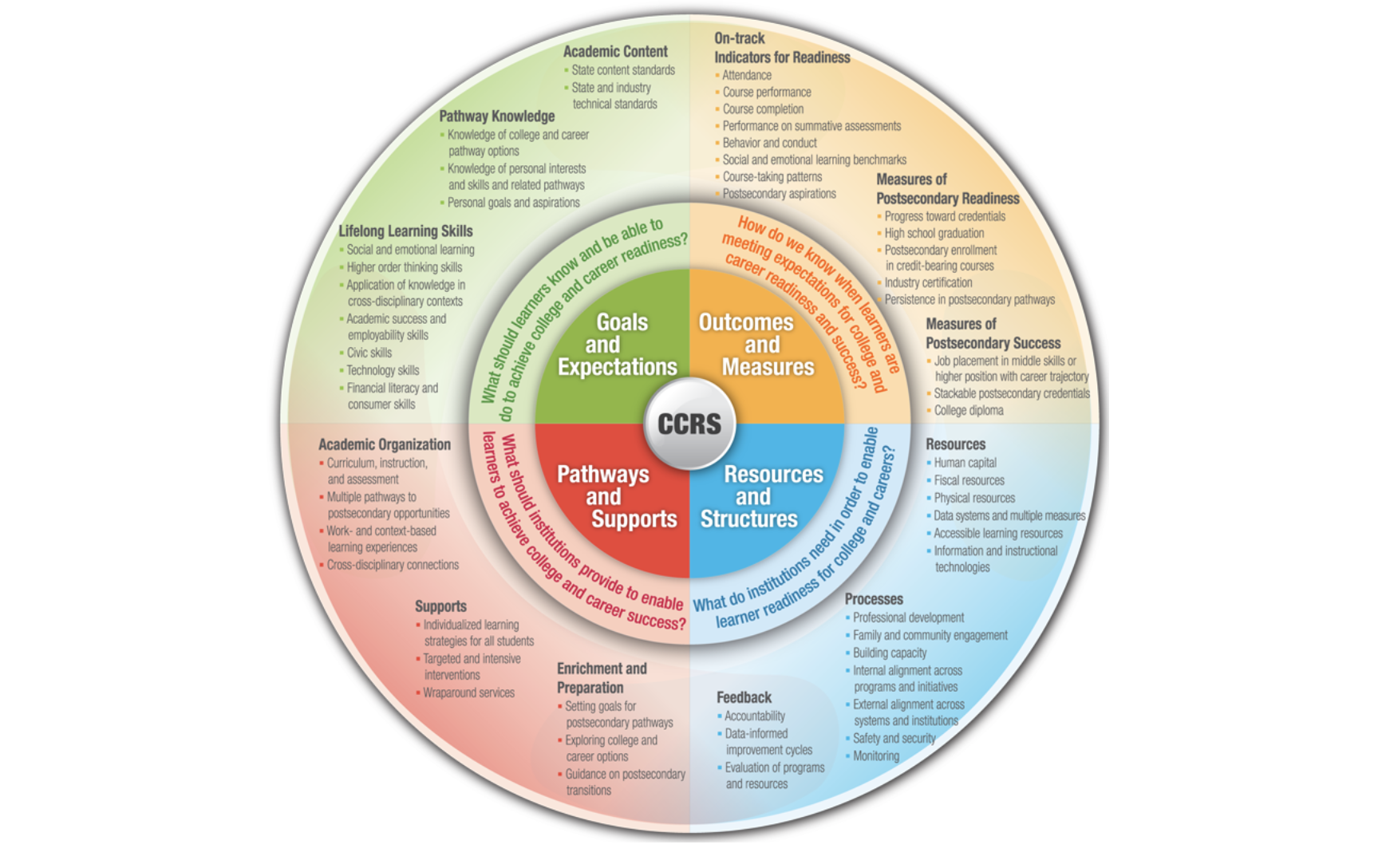 Image Source: College and Career Readiness Success Centre. The CCRS Organizer provides a visual, consolidated overview of the many key elements that impact a student's ability to succeed in college and careers.
How do we measure college and career readiness? What do assessments look like?
Just like defining college and career readiness, measuring it varies among states and even districts. According to the Education Trust, currently 34 states publicly report having some form of career-focused measures, each with some limitations.
The Education Trust reports that some signifiers of college and career readiness include:
Partnership for Assessment of Readiness for College and Careers (PARCC) and Smarter Balanced:

These programs provide critical information on whether students have attained the necessary reading and math proficiency to be successful in college or the workplace. However, they don't address other skills desired by employers, like effective communication, teamwork and professionalism.

Courses with dual credit opportunities:

Advanced Placement and International Baccalaureate courses are recognized by many colleges and universities for college credit. For career readiness, the dual credit model is often combined with CTE courses in career and technical education-related fields. Employers generally believe completion of these types of programs signal readiness for the workplace.

Work-based learning:

This is often integrated into courses with a specific career pathway or a STEM-related program. They might include internships, co-operative programs and youth apprenticeships.
How do online future readiness tools contribute to college and career readiness in elementary, middle and high school?
A holistic approach that covers all facets of college and career readiness is often found in programs that start young and culminate in the senior year of high school.
Districts that use future readiness software like Xello have a streamlined approach to college and career readiness available to them starting in Grade 3 and progressing through to high school. 
Age-appropriate lessons focus on social-emotional learning like communication, collaboration, problem-solving and critical thinking. They also cover important skills like time management and financial literacy. Many of these lessons correspond with state and district mandates.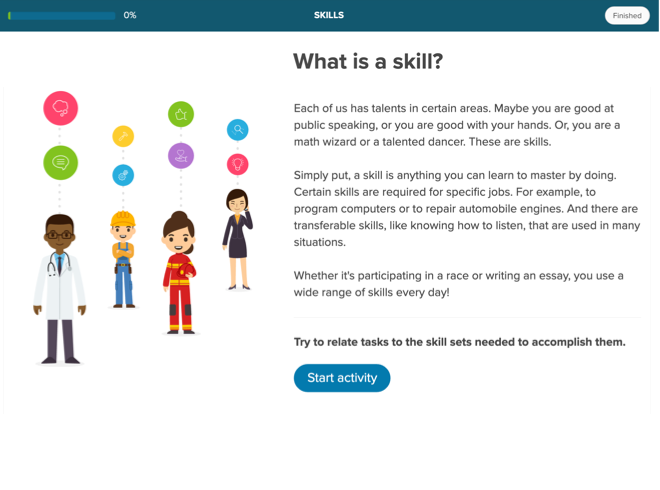 Using Xello, middle and high school students can create an individual profile where they store future-ready information. They take personality and learning quizzes to become more self-aware. 
A Matchmaker test provides them with a list of 10 careers that fit their interests and aptitudes. Equally valuable are the "related" jobs for each match that often kick off extended career exploration. 
Students are even afforded an inside-look of what a typical day on the job is like, how much money they can expect to make and whether the demand for each career is rising or falling.
Students can also review comprehensive colleges and post-secondary training programs by location and program of study. With detailed information available, they are better able to connect what they're learning in school to their college and career goals. This often results in increased engagement rates. 
College and career readiness in elementary, middle and high school starts with an awareness of the self, manifested through guided reflection, and progresses into an understanding of careers and the world around them. 
When students have a keen sense of who they are, what they like and what options are available to them, they are better prepared to custom-design a future for themselves. 
How can we navigate college and career readiness in times of uncertainty?
Right now, we have a unique opportunity to reach students of all ages. In many districts, academic work is voluntary, not mandatory. In the absence of traditional school days, classes and homework, extracurricular activities and even a toned-down social life (at least the IRL kind), students have more bandwidth to reflect and dream. 
As they connect to students remotely, counselors and/or teachers can ask them to consider:
What does their future look like? 

Which careers are a good match for their personalities, aptitudes and passions? 

What kind of life do they want to have as an adult? 

How does what they have learned—and will continue to learn—in school connect with what they want to study or do in the future? 
Whether they use an online career planning tool or not, now is a great time for counselors or teachers to work with students to:
Review college requirements and modify their four-year plan, if necessary

Arrange virtual internships for students who are interested in becoming career ready

Go on virtual campus tours 

Explore remote learning opportunities in their district—and elsewhere

Identify college and career goals and research related summer jobs 
With uncertainty swirling around the entire college process, there's been a lot of talk about many high school seniors planning to take a gap year—a time traditionally used to work, travel and gain life experience between high school and college. 
Students considering a gap year can benefit from using the time in the rest of their final high school academic year to drill down into college and career readiness. 
Instead of proceeding with college plans they may have made more than a year ago, they can take the time to check in with themselves and consider whether their feelings and aptitudes have changed since they settled on their future. 
These late-stage students can take advantage of online college and career planning software like Xello to re-examine their choices, research colleges anew and even explore career choices they may not have considered in the first round.
Career planning software has been a critical tool for educators and counselors across the country who are striving to contribute to a sense of stability for students learning remotely. 
Many report that students are logging onto Xello to continue the exploration they started at school. (It helps that Xello is fun to use!)
For many students, a silver lining to this time of uncertainty may be that they get to know themselves on a deeper level and are better prepared for college and career. That's an outcome everyone can appreciate.