The 4 Questions You Must Ask Yourself When Evaluating & Implementing College & Career Readiness Software
Meredith Beyer-Alldridge
|
June 1, 2021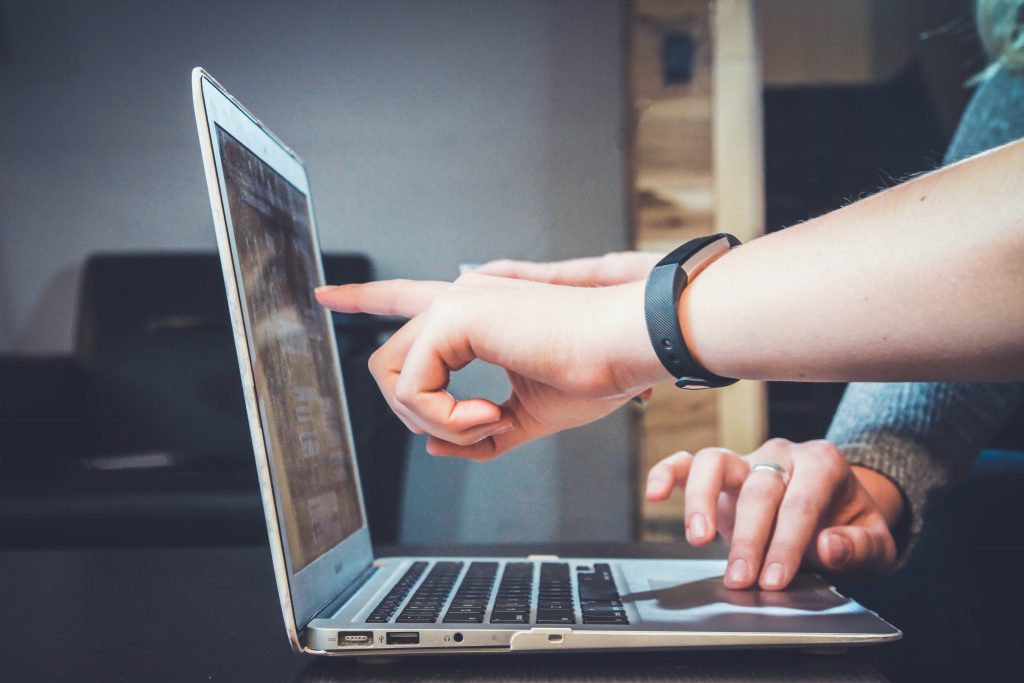 Choosing a new software is the first step on a journey to making change in your district. In choosing a college and career readiness solution, like Xello, you're looking to make a difference in the lives of students—creating a positive vision for their future, fostering engagement in school, and helping to build the social-emotional skills that help them navigate their careers.
Many schools struggle to effectively make use of EdTech software purchased with the best intentions. In many cases, neither students, nor educators reap the full benefits of these programs. With the pressures on time, budgets, and resources, it's more important than ever that you're getting full value from the programs you're investing in. 
Over the years, we've learned from the thousands of districts we've worked with what it takes to be successful in launching Xello. 
First and foremost, it's about bringing people together and working towards a shared vision for your students. It means looking at how things are now and what you want them to be. This can be–and to an extent must be–disruptive. 
Disruptive does not have to be scary. In fact, districts that take the purchase of a new software as an opportunity to organize and align their programs, processes, and people are setting themselves up for long-term success. And, if you're looking to do this for your own district or institution, I implore you to set yourself up for success by asking these questions:
1. What do I want to get out of my college and career readiness (CCR) program? 
To know what CCR success looks like in your district, you need to think ahead – say 3 to 5 years from now. What impact do you want your CCR program to have on your school(s)?
What does it look like for students? For educators? For yourself? And, once you've thought more long term about your goals, can you rewind to think about where you'll need to be a year from now in order to get there?
These aren't easy questions, but if you're already engaging a vendor to help you achieve your goals, you'll likely have an idea. If your prospective vendors are thorough, this will have come up in a needs analysis early on.
By the time you're on your way to launch, these goals will have more shape and, at Xello, we focus on turning them into SMART goals during your implementation process. 
But the creation of goals must also consider the current state, which is why I recommend you ask yourself:
2. How does (or will) this software fit into my existing CCR program?
We understand that Xello is a part of your larger CCR program and, as such, it needs to fit within the ecosystem of other future readiness activities. Start by taking an inventory of those activities across your district and across all grade levels. Then, to truly understand how Xello can help, you'll need a solid understanding of the product. 
Our introductory videos and complimentary training options will get you off on the right foot. Consider how Xello can complement your current programs and initiatives & what will change once Xello is rolled out?? 
Understanding the lay of the land can help you anticipate points of friction and areas of opportunity for Xello. And, by engaging with the people who are delivering those activities, you're forming a team who will likely become a part of your Xello implementation – whose buy-in will be critical for student adoption.
3. How can this CCR software help my district achieve our learning objectives? 
We believe CCR software should be more than completing tasks and checking boxes; it should be a student-focused experience that guides them to develop their skills and knowledge. Xello's lessons provide the interactive instruction needed to engage students, based on the critical learning objectives you require, complete with in-app prerequisites.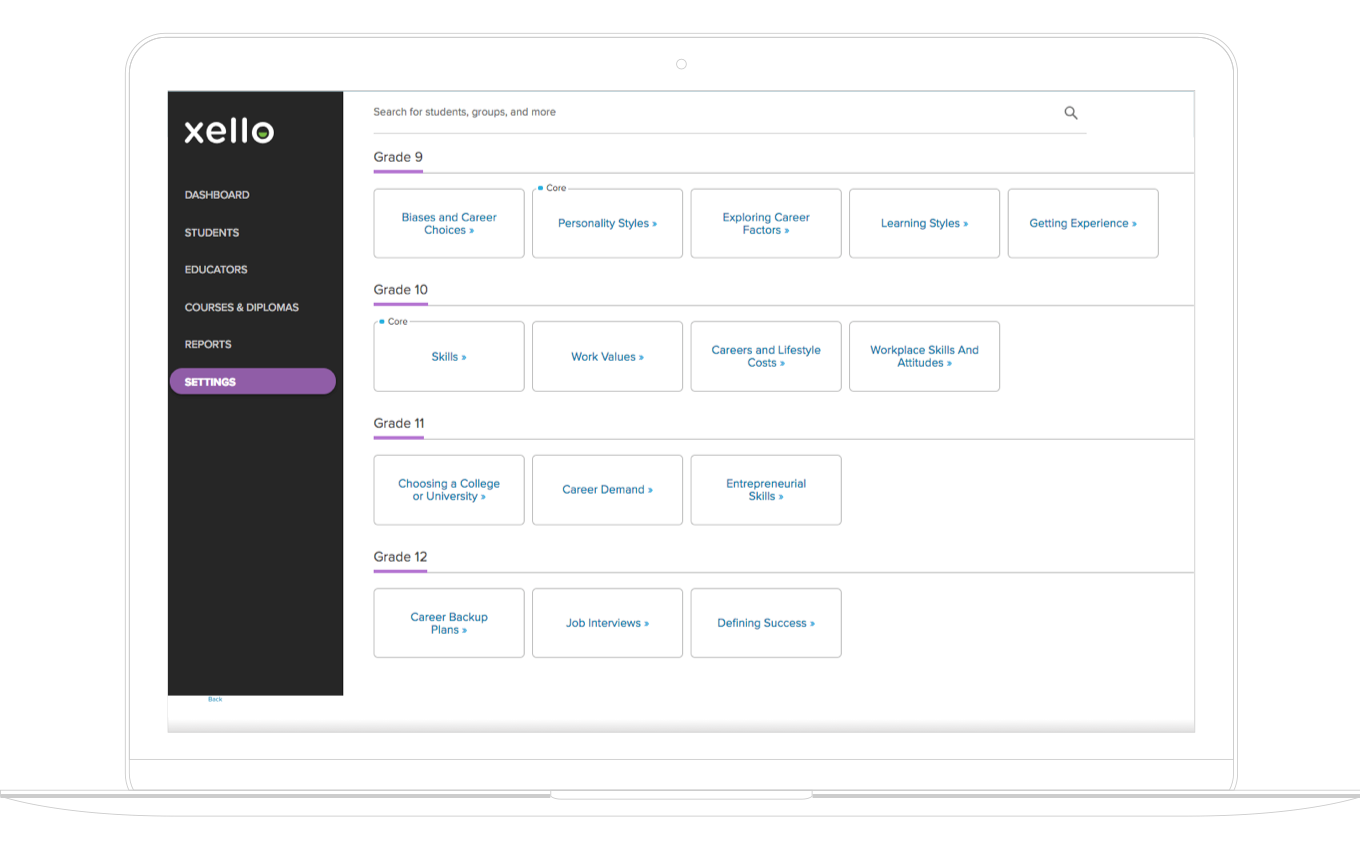 Your Xello lesson sequence–that is, the grade by grade lesson requirements–is the foundation of your Xello implementation. It communicates to both students and educators what the expectations are with Xello and provides powerful reporting to see who's on track and who may need more support. So, it's critical that your district's lesson sequence reflects your goals with the product. And, for anything not covered, you can always build your own with Xello custom lessons. 
If students have to do it, create a lesson for it! 
If you aren't sure where to get started, Xello's Scope & Sequence outlines grade-by-grade recommendations for lessons and supporting activities for students.
So now that you know lessons are the pillar to any Xello implementation and how you'll be able to achieve your goals, including meeting mandates, you're probably wondering:
4. How will I effectively engage educators in my district with the launch of this CCR software?
This question is arguably the most critical question to answer for any CCR software implementation. Setting administrative direction is one thing, bringing that to life in a classroom is something else.
That's why we recommend including a few front-line educators into your educator engagement planning process. They can generate ideas and creative ways to reach their peers, while advising on roadblocks to avoid or lessons learned from previous rollouts. 
By thinking through what is needed to successfully launch, you can begin to create what we call an engagement roadmap, with future Xello users mapped to activities that take them along the product adoption journey–from novice user to someone able to engage students in their future-readiness plans. 
At Xello, we've recently launched a new service offering that addresses these questions. Designed as strategic planning, and expertly facilitated by our internal training consultants, our four-part workshop series aligns district leadership across departments with other key Xello stakeholders in their district to build a rollout plan that will work towards shared goals, and engage educators in adopting Xello, who will ultimately champion it with their students. 
Born out of a Customer Experience (CX) research project to deliver more value during the onboarding process, this new offering is the result of countless hours of talking to our current clients and their Xello support staff. We identified a common pain point: misalignment between district leadership goals and the needs of frontline educators. To get ahead of this, districts can purchase the new Xello Launch Workshop series to empower and involve their educators with launching Xello.
Initial thoughts from clients have been positive. Many clients have pointed out how the interactive nature of the sessions allow districts to begin breaking down the silos that so often exist between neighbouring teams, such as CTE and counselors.
One of our clients, Gail Powers, CTE Director of Vance County Schools noted how the workshops set her district up for success right from the get-go. Here's what she had to say:
These workshops have set us up for success right from the start by developing a plan to get buy-in and brainstorming ideas for how to continually engage students.
Of course, what Gail can't know now is the long term effects of this coordination early on in her journey with Xello. But as Jeff Harris (Xello founder) stated in our recent AMA, the districts and institutions that are most successful are those that adopt a culture of future-readiness.
And the first step in that culture shift is making future readiness a priority, which is something that all new Xello Launch Workshop clients have in common. 
To learn more about this new client service offering, speak to your Xello representative.
What's Next?
Take a look at how other Xello clients evaluated their options and launched their program, along with tips you can use to do the same in this webinar: